Our Top Three Products for Color-Treated Hair
by
Coloring your hair is a great way to achieve a vibrant and beautiful color, or even experiment with something new. However, it's a well-known fact that color treatment doesn't come without consequences. It can leave your hair dry, brittle and damaged. This is because color treatment can actually change the inner structure of the hair, causing a lackluster look and dryness. This is even more common if you frequently color your hair to hide roots or gray hair.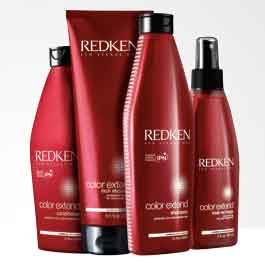 Luckily, there are amazing products to combat these negative side effects, and we're listing our favorites below.  Stop by Florida Academy to purchase these products designed to lock in color and keep your hair looking and feeling healthy.
Redken Color Extend Magnetics Shampoo
This color-protecting shampoo is sulfate-free, lightweight, gentle, conditioning and cleansing.  It uses Redken's IPN technology and amino-ions to leave your color-treated hair three times more fortified.
Redken Color Extend Magnetics Conditioner
This color-protecting conditioner provides targeted repair to not only detangle your hair, but also leave it feeling smoother, softer and more conditioned. Additionally, color treated hair is three times more fortified because of Redken's IPN technology and amino-ions.
Redken Color Extend Magnetics Deep Attraction Mask
The sulfate-free hair mask for color-treated hair uses zinc gluconate and IPN technology to extend the life of your hair color. It strengthens the hair fiber and strands with intense replenishment to leave your hair feeling softer, smoother and more fortified.
Looking for a career in Recession Proof Industry?
Florida Academy's professional education programs have the main goal of providing students with the training they need to start a career. We offer programs in Beauty and Wellness and Trade and Industrial. Our programs' curriculum are carefully tailored to prepare students for the challenges they will find in today's job market. We do that through a smart blend of in-class instruction and practical training. In our courses, students learn not only the latest techniques for their field, but also how to meet clients' expectations by providing remarkable service.
Technology is changing fast, and that means the landscape for professionals in probably all occupations is also changing at a fast pace. For HVAC professionals, equipment is always being updated and new solutions created in order to provide people with more comfort for their homes and businesses. For beauty and wellness professionals, new techniques, products and procedures are always being invented. Not to mention the ever-changing trends. Professionals in that field must keep up to date with all that is happening. A strong instruction is mandatory to achieve success in today's job market—an instruction that prepares students for their daily activities, and to provide high-standard customer service. At Florida Academy, students learn from instructors who have experience in that field. They know how to deal with clients, they understand the challenges of the industry and they love what they do.
Students in Florida Academy's beauty and wellness programs can expect to be trained in the latest professional services in cosmetology, skin care, nail technology and massage. They will learn the application of techniques, products used and how to keep up to date with the trends. Candidates must prepare to train techniques on real people and learn details about the industry, safety, guest services, and laws and regulations. Our purpose is to prepare the student to successfully face all the situations they will encounter in the real world.