6 Ways to Build up your Clientele
by
Congrats! You've passed your state cosmetology boards and have landed a position as a stylist in a salon. You've set up your station, but the only one sitting in your chair is you. How do you build up your clientele and get them in your chair?
Get social
Of course, talking about what you do among friends and family is a good place to start, but never underestimate the power of social media. Take to Facebook and Twitter pages. Hit Instagram with photos of your best work. Post on the salon's social media sites, as well as those of products you use to get your name and business in front of potential clients.
Distribute business and referral cards
Getting business cards ready is something you should do right away. Make sure you leave a space to write your hours and maybe have a space on the back to write in your client's next appointment time. Have them available when clients check in for their appointments. Post them on community bulletin boards and ask to display them in local businesses. Also consider printing referral cards that offer money off on your studio services for both the one making the referral and the new client.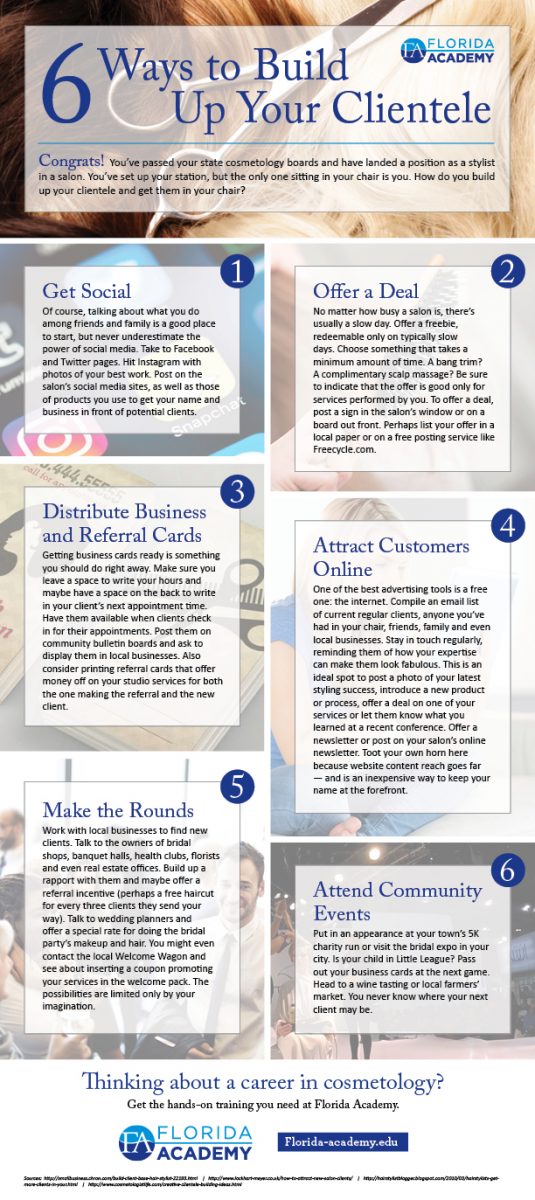 Offer a deal
No matter how busy a salon is, there's usually a slow day. Offer a freebie, redeemable only on typically slow days. Choose something that takes a minimum amount of time. A bang trim? A complimentary scalp massage? Be sure to indicate that the offer is good only for services performed by you. To offer a deal, post a sign in the salon's window or on a board out front. Perhaps list your offer in a local paper or on a free posting service like Freecycle.com.
Attract customers online
One of the best advertising tools is a free one: the internet. Compile an email list of current regular clients, anyone you've had in your chair, friends, family and even local businesses. Stay in touch regularly, reminding them of how your expertise can make them look fabulous. This is an ideal spot to post a photo of your latest styling success, introduce a new product or process, offer a deal on one of your services or let them know what you learned at a recent conference. Offer a newsletter or post on your salon's online newsletter. Toot your own horn here because website content reach goes far — and is an inexpensive way to keep your name at the forefront.
Attend community events
Put in an appearance at your town's 5K charity run or visit the bridal expo in your city. Is your child in Little League? Pass out your business cards at the next game. Head to a wine tasting or local farmers' market. You never know where your next client may be.
Make the rounds
Work with local businesses to find new clients. Talk to the owners of bridal shops, banquet halls, health clubs, florists and even real estate offices. Build up a rapport with them and maybe offer a referral incentive (perhaps a free haircut for every three clients they send your way). Talk to wedding planners and offer a special rate for doing the bridal party's makeup and hair. You might even contact the local Welcome Wagon and see about inserting a coupon promoting your services in the welcome pack. The possibilities are limited only by your imagination.
Thinking about a career in cosmetology? Get the hands-on training you need at Florida Academy.