Florida-Academy: Best Career School of Southwest Florida
by
Best Career School in Southwest Florida
Florida Academy was voted best career of Southwest Florida! One of the top career school in Florida. Find out about our trade programs and get career training in less than a year!
Located in Fort Myers, Florida Academy offers professional trade programs in beauty and wellness as well as HVAC. Learn hands-on from instructors who are all industry experts and be ready to begin your career in just one year.
Florida Academy's Career Services representatives are committed to helping graduates find that important first job.
For more information or to register for classes
Visit florida-academy.edu or call 239.489.2282 today.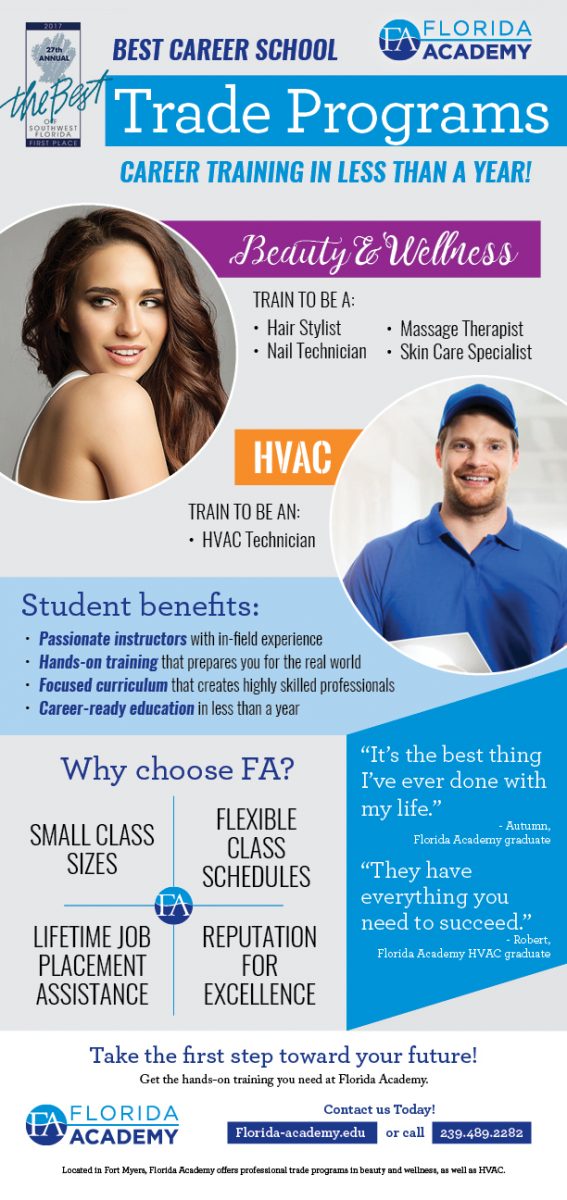 Located in Fort Myers, Florida Academy offers short-term professional education programs in beauty and wellness, and trade and technical fields. Our students benefit from:
• Passionate instructors with real-world experience
• Hands-on training to prepare you for life on the job
• Focused curriculum to create highly skilled professionals
Florida Academy's professional education programs have the main goal of providing students with the training they need to start a career. We offer programs in Beauty and Wellness and Trade and Industrial. Our programs' curriculum are carefully tailored to prepare students for the challenges they will find in today's job market. We do that through a smart blend of in-class instruction and practical training. In our courses, students learn not only the latest techniques for their field, but also how to meet clients' expectations by providing remarkable service.