Cosmetologist Resume Writing Guide
by
A resume can stand in the way of landing your dream cosmetologist job. You might have the right skills, but if your resume can't showcase that, chances are you won't get the job. That's why having a good resume is important in the cosmetology industry: you need to properly show employers that you're qualified.
Writing the perfect resume can be hard work. That's why we've put together this cosmetologist resume writing guide. Read on to discover more about the cosmetology industry from a career perspective, including benefits, job outlook and growth, and tips to writing a good resume—so that you can land your dream cosmetologist job.
Jobs in the Cosmetology Industry
The cosmetology industry is an all-encompassing industry. From makeup artists to barbers, there's a cosmetology job for everyone, including:
Hairstylists
Colorists
Nail Technicians
Estheticians
Massage Therapists
Barbers
Makeup Artists
Salon/Spa Owners
4 Benefits of Becoming a Licensed Cosmetologist
Being a cosmetologist is demanding, but also a lot of fun and comes with benefits, including:
A Varied Skillset
By attending cosmetology school, you'll learn different skills regarding hair, nails, skin, and makeup. This helps you choose which skills you prefer and how to capitalize on them. It also makes you a more hireable job candidate since you have skills applicable to many settings.
Work Schedule Flexibility
Cosmetologists don't just work a 9-5. They often work in settings where they choose their own shifts. There are many options for full-time, part-time, and seasonal positions so that you can pick jobs at your convenience.
Quick Entrance Into the Field
Cosmetology requires education, but you don't need a 4-year degree to enter the field. Many accredited programs take about a year to complete, helping you launch your career quicker than traditional college schooling.
Job Location
Perhaps one of the best parts of the cosmetology industry is that you can work anywhere in the world, from movie sets in Los Angeles to runways in Paris. You can even work at local salons and shops, or be self-employed and begin your own cosmetics business.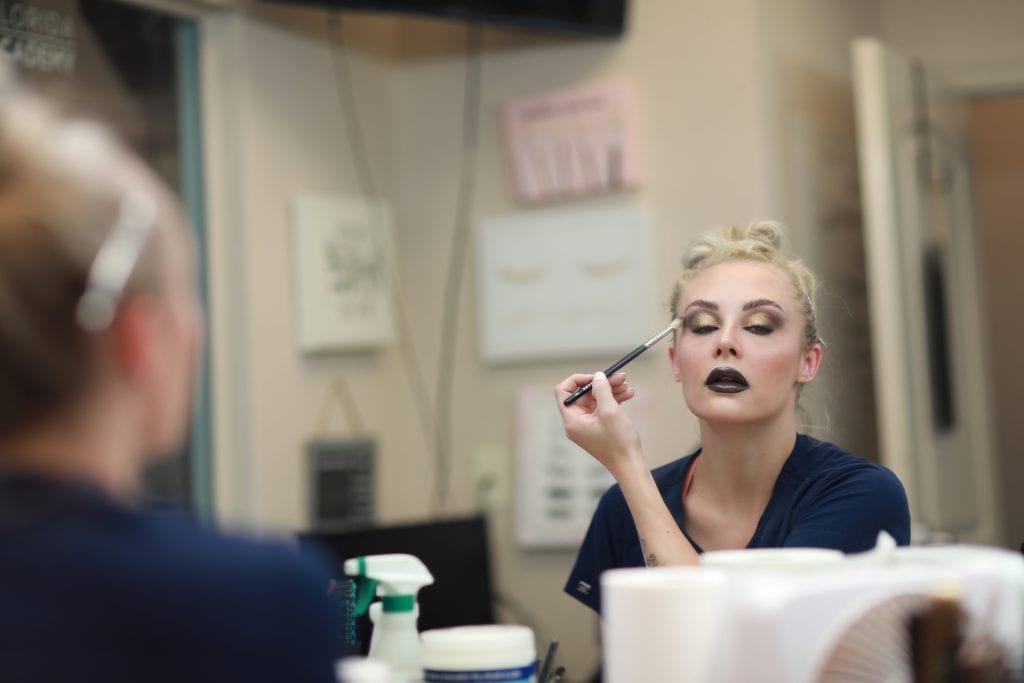 Career Outlook
Knowing the career outlook of your desired profession helps you get a better understanding of the industry. Here are industry trends to keep in mind:
Job growth: Although the overall employment of barbers, hairstylists, and cosmetologists is set to decline by 1% through 2029, the demand for them will remain strong. There will be many job opportunities stemming from retiring workers leaving and new workers filling positions.
Average salary: In 2019, the median pay was $26,270.
Highest-paying states for cosmetologists: You can get much higher than the average salary by working as a cosmetologist in New York, California, or Florida.
How To Write a Good Resume for a Cosmetologist
Whether you're an aspiring or experienced cosmetologist, a strong resume is essential to career success. Read these resume writing guidelines to get a resume that employers will love.
Include a Resume Objective
Also known as a professional summary, this goes at the top of your resume and should include info on why the employer should hire you and how the position aligns with your career goals.
Demonstrate Your Skills
Tailor your skills to best meet the job description, and only include 5-10 skills. A good mix of hard and soft skills is best. If you're unsure of the skills to write, take a look at other licensed cosmetologists' resumes.
Focus on Employers and What They Do
Matching your summary and skills to best fit the job description and what the employer is looking for is a great way to secure an interview. This means that you should tweak each resume a bit for each position you apply to.
Be Relevant
Include skills and experience that are relevant to the position you're applying for, such as certifications, awards, and education. Don't include experience past 10 years.
Enroll in the Cosmetology Program at Florida Academy
The perfect resume starts with the perfect education. Attend cosmetology training at Florida Academy to get certified and licensed, so that you can land your dream job!
Florida-Academy's 10-month program is led by industry professionals who provide hands-on training and comprehensive lesson topics including haircutting and coloring, makeup, and nail services like manicures and pedicures.
Get your career started today—contact us!