The Ultimate Guide to Attractive Nails
by
Trends in the U.S. Salon Industry
By the end of 2020, IBISWorld expects the salon industry to reach $47 billion in revenue. Products and treatments involving your nails, hair, and skin are growing in popularity because the practice of "self-care" strongly resonates with people. Nowadays, pampering yourself with brand new salon manicures or high-quality facial masks doesn't make you wasteful or high-maintenance. It means you're hygienic, responsible, and on your way to a happier, healthier self! With consumers' desire to feel good about and express themselves, innovations in nail salon trends are constantly building on the previous to create a completely revolutionized salon experience. Now more than ever, the industry is looking for professionals like you to fulfill in-demand, creative nail technician roles.
Different Types of Nail Manicures
We've got the latest manicure trends listed out for you to check out below! Remember though, it's not all about how cute your new claws will look! You'll want to consider the maintenance and amount of time your fresh set of nails will last so you can select the best option for you.
Polish Manicure
For the most part, when you get a standard nail salon manicure, you'll receive a nail trimming, shaping or filing, and buffing. Your cuticles will be treated to trimming or oiling too, followed by a soothing hand massage. Traditional nail polish is made of mixed pigments and flexible polymers that will last about a week before it starts chipping. This basic nail appointment will probably last somewhere between 30 minutes to an hour.
Gel Manicure
You'll always feel proper and put together with gel nail manicures. They use a blend of pigmented acrylic oligomers that need to be "cured" by UV or LED lights to achieve their soft and plump or hard finishing. Soft gel or gel polish can be soaked off without damaging your nail because the tiny microscopic pores can easily separate from your nail bed.
Meanwhile, hard gel's tough consistency can be used to extend your nail and create unique shapes such as the coffin, ballerina, lipstick, or stiletto. The hard gel needs to be shaved off, but shouldn't cause any real damage when done by a licensed nail technician.
That being said, try not to peel off (without properly soaking) your soft gel polish or remove hard gel without going to the salon. You'll need professional help to get it done and prevent yourself from hurting your nails any more than you have to! You can wait a couple of weeks in between each fingernail manicure to allow your body's keratin to restore and strengthen your nail for the best adhesion.
Acrylic Manicure
One of the hottest influencer nail trends sweeping across social media are acrylic sets. In particular, people are using them to create long and prominent nail shapes. They're made using an acrylic powder or polymer that is brushed onto and bound to each nail and manicure using a liquid monomer. It is often extended past the nail for an elongated effect before coloring.
These nails are the strongest coating: they can last as long as 3 weeks. However, a nail technician will recommend that you come in for a refill every couple of weeks because your nails will grow and leave a gap at the cuticle that leaves you susceptible to damage. You may also experience nail thinning if you're getting them done so often that your nails can't recover from the previous buffing. Depending on whether you're getting a round, almond, square, oval, edge, or other nail shape, you could be sitting in your salon seat for 1 to 2 hours.
Dip Manicure
One of the latest nail salon trends to take off is the dip manicure. During these salon manicures, the nail technician will coat your fingernails with a bonding base, then proceed to physically dip each of your fingertips into the acrylic powder mixture, and finally, they'll top it with a liquid activating agent. Be sure they are safely using a dish separate from the powder's original container to dip your fingers into!
Your nails will need to be completely dry to achieve the strongest possible adhesion. Unlike an acrylic manicure, where the acrylic will bond to your actual nail, dip powder nails will just rest on top of it. Your nail can also become thinned out from this type of manicure, so see to it that the buffing and removal process is gentle. It can last 2 to 4 weeks, but you'll want to get them off before that long anyway to maintain good nail hygiene, as with any manicure.
How to Fix Damaged Nails
If your nails are feeling drab after yet another round of back-to-back nail manicures, Florida Academy has the solution for you. First, you can avoid furthering damaging your nails through the proper method of nail polish removal. Use a low concentration of acetone on a cotton ball to gentle press, soak, and wipe off the polish.
If you need to go to the salon to remove your gel-, acrylic-, or dip-manicured nails, have them use a cotton pad in a similar fashion to your at-home removal method. They'll probably wrap your pad-covered fingers in tin foil to break down the polish for easy removal with a gentle wooden tool or buffing. Don't abrasively scrape at your delicate nails, or allow anyone else to!
To rehydrate your nails after the drying removal process, apply cuticle oil on the nail and surrounding skin several times a week. You should also strengthen your nails with a deep-conditioning nail bed treatment. It would be most beneficial to your nail health if it includes photo lipids, sunflower oil, almond oil, or another similar oil so the rich nutrients harden and restore them. We recommend using these oils when you don't have any nail polish on as it will cause the polish to lose its adherence and begin chipping.
Practice these 3 steps and you should see your nail canvas return to its former glory so you can play around with a new batch of nail salon trends!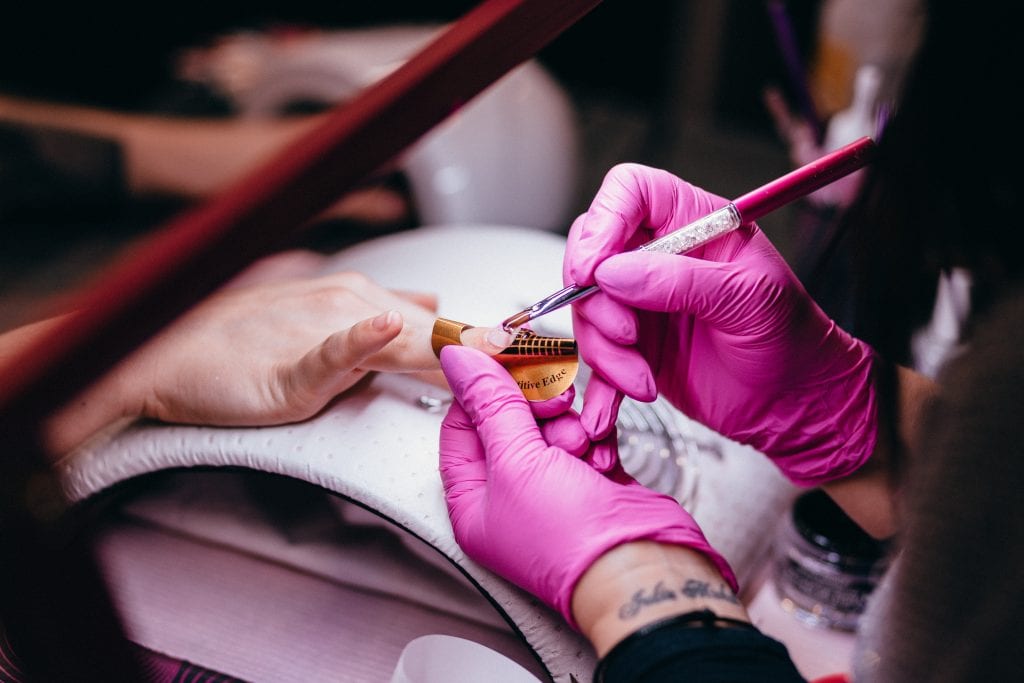 Top 3 DIY Manicures
Florida Academy has found some great manicure trends that you can try out in the comfort of your own bedroom!
Starry Nails
Over a midnight black, navy blue, or cerulean blue base coat color, use white and/or pale yellow nail polish to carefully dot and lines to connect starry constellations that perfectly match your astrological zodiac sign. You'll love showing off this unique look!
Thin French Tips
Elongate the look of your nails by delicately painting on a thin stripe of white on top of a thin black line nail edge. You can use a nude nail polish as a base color, otherwise, just apply a clear coat on top so your twist on a classic manicure look will be ready to go.
Milky Ombre
Achieve one of the nail trends you've probably been seeing a lot of—a milky ombre—with the help of a buildable sheer nail polish. This may or may not contain a little shimmer depending on your preference. When you sweep the nail polish applicator over your nails, spread the polish more thinly near your cuticle beds for a gradient effect.
Enroll into Recession Proof Career Program!
Nail Technology Program Offered at Florida Academy
Develop your love for the nail industry and fulfill your passion at Florida Academy's nail technology program.
Located in our Redkin Premier School's high-end salon, our 240-hour nail technician training program will give you hands-on professional training experience so you can master the latest nail techniques and develop vibrant marketing and communication skills to nurture client loyalty. This curriculum will also include lessons on nail and skin disorders, sanitation, disinfection, and ergonomics to be sure every client you encounter comes out feeling so satisfied in all service aspects that they'll refer you to a friend.
You'll learn from Southwest Florida's well-experienced professionals so you can begin an exciting career as a nail technician in as little as two months. Once you complete our accredited program and pass your final exam, you can apply for your Florida registration to serve clients in hair salons, nail salons, spas, resorts, and more. This will also give you the option to be your own boss and work a self-employed nail technician lifestyle.