5 Types of Facials To Rejuvenate Your Skin
by
Amid the countless skin care serums and cleansing formulas, it's hard to find something that actually works for your skin. But there's a possible solution: facials.
Facials can take skin from dull to glowing in as little as half an hour and help rejuvenate your skin—no matter the skin type you have. Facials have gained popularity, especially in the past years. Countless celebrities are spouting off their favorite facials (like Kim Kardashian and her "vampire facial"), and the U.S. Bureau of Labor Statistics has categorized the skincare and facial industry as growing at a "faster than average" rate of 17% through 2029. Overall, one thing is clear—facials are here to stay.
Want to know more about facials and how you can benefit from them? Read on to discover five facial types you should know and the dos and don'ts of facials.
Facial Types You Should Know
1.Chemical Peels
How It Works: A chemical solution containing varying levels of acid is applied to your face. The old skin exfoliates and can peels away after the peel. The strength of the solution determines how long it takes for a new layer of skin to surface.
What It Does: Chemical peels help decongest the skin, get rid of deep-set wrinkles, scars, age spots, and photodamage.
Perfect For: Anyone looking for younger-looking, healthier skin.
2.Microdermabrasion
How It Works: It uses a device with a crystal or diamond tip to exfoliate the surface level of your skin and vacuum anything that comes off.
What It Does: Microdermabrasion helps get rid of dull skin and leaves skin softer, smoother, and plumper.
Perfect For: Anyone looking for youthful, glowing skin or looking to just give their face a deep clean.
3.Dermaplaning
How It Works: The facialist uses a surgical scalpel blade to gently scrape off your outermost layer of skin. Next, your skin is infused with antioxidant serums.
What It Does: It removes dead skin cells and peach fuzz, helping skin look rejuvenated.
Perfect For: Anyone looking for a rejuvenating facial as dermaplaning is suitable for all skin types.
4.Laser Skin Resurfacing
How It Works: As its name suggests, this facial involves lasers. Usually, a fractional CO2 laser is focused on the skin to create microscopic wounds. The non-wounded cells support the wounded ones to speed up healing, which in turn stimulates new cell generation.
What It Does: Gets rid of fine lines, acne scars, age spots, textured skin, and enlarged pores.
Perfect For: People looking to get rid of blemishes and scars on their skin. However, those who are acne-prove are not good candidates for this facial since it can cause damage to the skin.
5.Aromatherapy Facial
How It Works: Your face gets steamed and cleansed by a professional. Next, an infusion of essential oils are used to massage your neck and face area.
What It Does: This treatment is meant to relieve stress and tension in your face while also nourishing skin with antioxidants.
Perfect For: Anyone looking for a relaxing and energizing facial.
How To Choose the Right Facial
Choosing the right facial for you depends largely on your skin type and what you want to get out of your facial. As a rule of thumb, here are facials to consider doing and avoiding:
To target blemishes:
To feel relaxers:
For overall glowing, rejuvenated skin: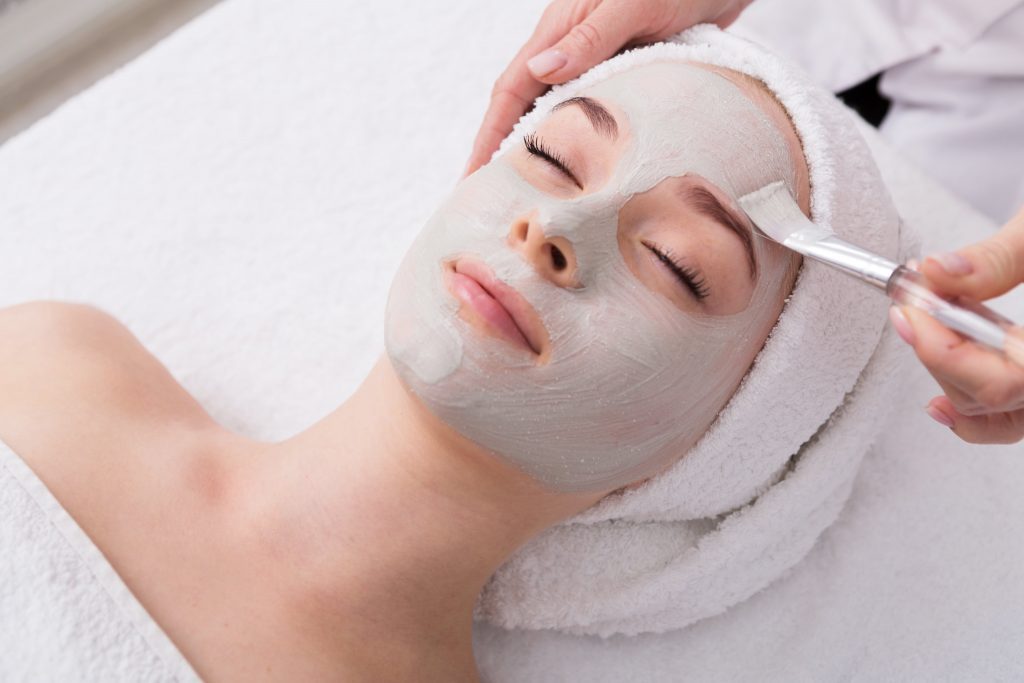 Benefits of Facials
Still on the fence about getting a facial? Here are some benefits to consider.
Facials can help:
Relieve and reduce stress
Cleanse your skin
Prevent aging
Promote blood circulation
Rejuvenate your skin
Detoxify your face
Treat acne and acne marks
Eliminate whiteheads and blackheads
Open up your pores
Exfoliate your skin
Eliminate under-eye bags and dark circles
Give you an even skin tone
How Often Should You Get a Facial
Dermatologists recommend getting a facial every 4-6 weeks. In order for facials to be effective—and your skin to remain healthy—facials need to be done sparingly. If you get them done too often, it can cause irritation and cause complications for your skin.
After Your Facial, Avoid This
In order for your facial to be the most effective, there are some things to avoid afterward. These things include:
Avoid going out in the sun after your facial
Don't use soap for at least a day or two after your facial
Refrain from picking at your skin
Don't wear makeup
Skip the gym for a day or two
It's Time To Perform Your Own Facials—Here's How
Are you interested in facials? Do you want to help others feel their best? Then getting certified in skincare and facials might be for you.
The Florida Academy Skin Care program offers an amazing curriculum to get your skin care career started. You can become a registered facial specialist in as little as 11 weeks! Our school is even equipped with all the latest skin care technology, like high-frequency, galvanic and microdermabrasion machines, Epiwave Ultrasonic facial machines, LED light therapy equipment, Endermologie machines, and TEMPTU airbrush makeup machines.
The perfect blend of hands-on training and classroom instruction, this is a program you don't want to miss! Contact us today for more information.