6 Benefits of Becoming a Barber
by
Ever thought of becoming a barber? You might want to consider it.
A billion-dollar industry that's been around for thousands of years—that's the barber industry. Along with its impressive ancient roots and many lucrative opportunities, barbering offers a profession with ample benefits and many open doors.
From being your own boss to working wherever you want, being a barber has its perks.
Read on to learn more about the top benefits of becoming a barber:
Be Your Own Boss: One of the best things about being a barber is that you can be your own boss and choose your own hours. With barbering, you have the freedom of creating your own schedule to fit perfectly into your agenda. Not only that, but you can also become self-employed and open your own salon or work from a home salon. With a set of skills like barbering, the opportunities are endless.
Express & Explore Your Creativity: Initially, you might think of barbering as cutting hair. But it's more than that. Barbering is about creating looks. It is the art of making one look good through expert cuts, blends, fades, and shaves. As a barber, you'll need to use your creativity to find which styles work best for each client and how you can execute them. Some of the most famous barbers are known for their personal flairs and creative styles.
Earn Good Money: Do barbers make good money? Like most jobs, that depends on skills. But unlike many other professions, there is no cap to the money you earn. So long as you are a good barber and make connections with your clients, you can have a solid income that will open the doors to the lifestyle you want—there have even been barbers that have earned up to $1,000 in a day!
Work Wherever You Want: Hawaii? Sure. Miami? Yep. Seattle? Absolutely! As a barber, you'll be able to work quite literally anywhere. This is because barbers are needed in every place there are people who need a haircut—and that's most of the world. You can even start your barber career in one place and move to another while staying in the same field, unlike other jobs.
Help Others Feel Their Best: As a barber, you're helping people feel their best by giving them self-confidence. For many people, getting a good haircut can turn their day around and make them feel good about themselves—and at the end of the day that's what being a barber is really about.
Job Security: The United States Bureau of Labor Statistics projects the barber industry to continue to grow into 2024 by 10%. This means that there will be more and more jobs available as a barber, contributing to job security. Even if you were to lose a job as a barber, chances are, there will be many more opportunities to choose from!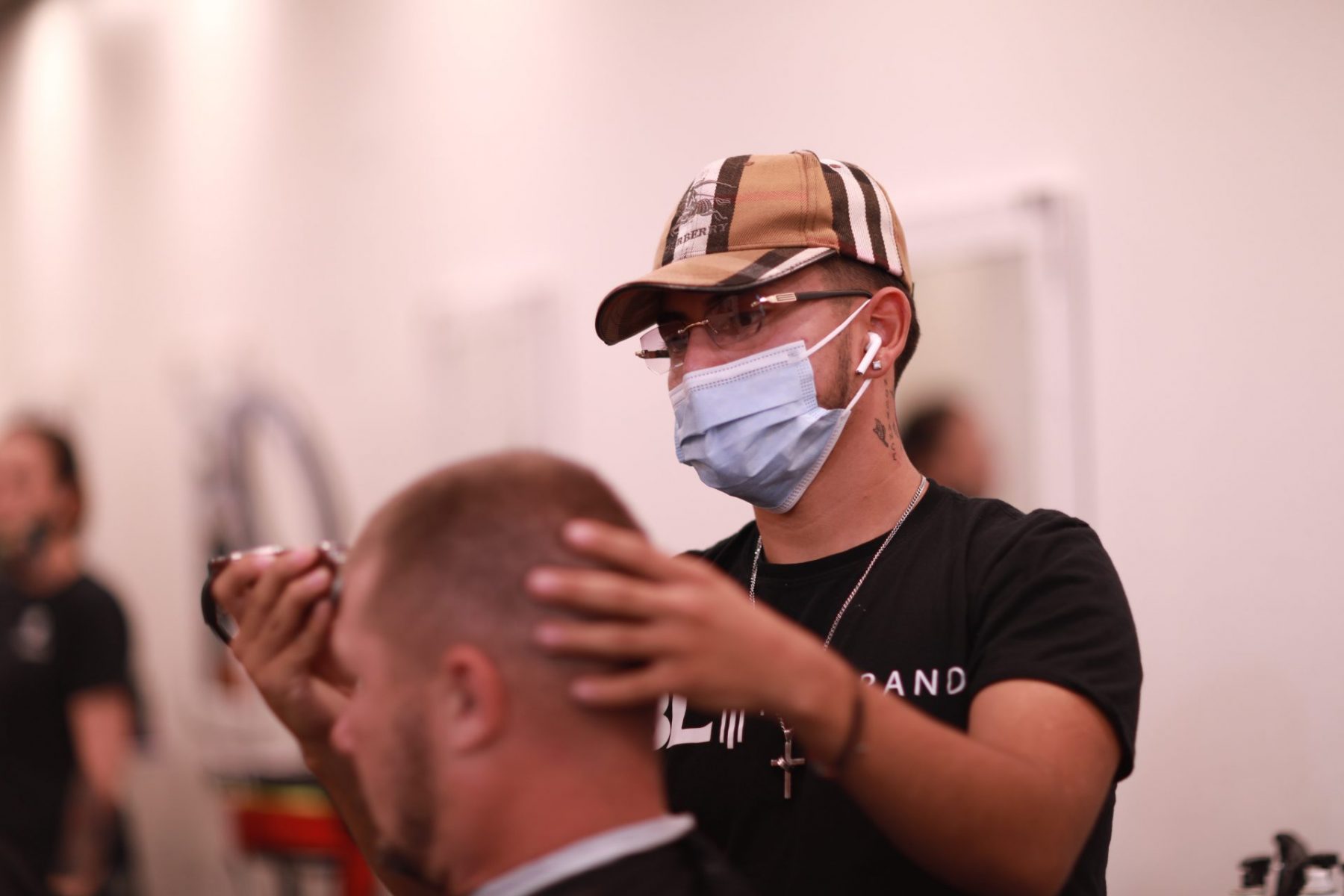 Career Opportunities
Speaking of opportunities, here are the many career opportunities and fields you can work in as a barber:
Salons – The demand for barber services at unisex salons is growing. People want a hair-cutting place they can walk into to get all the types of services they need, which is why a salon is a great place to start looking.
Television & Film Industry – Barbers are in high demand for male actors and models in the television and film industry. Many productions require barbers to be on set and ready to make the client look exactly the way the producers and directors want.
Music Industry – More and more musicians are looking for barbers they can take on the road with them to keep them looking great time and time again, show after show. Barbers are also needed to clean musicians up for photoshoots, press opportunities, and even album cover art.
Event Planners – Event planners require barbers to work with clients such as corporate businesses, weddings, and large promotional events. This field offers a great opportunity for networking and making connections.
Theater Industry – Similar to the television and film industry, barbers are needed in the theater industry. This is a great space for creativity and fun, as barbers will need to recreate looks to perfectly match characters and sets.
Photography – From fashion photography to freelance, many subjects of photography are people. And since pictures forever capture an image, it's important that the people in them look great. That's where barbers come into play. Fashion photographers will often require a barber to work with their models to achieve the perfect look.
Military – Although this isn't the most glamorous field, becoming a military barber can provide you with extensive job security and benefits.
Senior Care Facilities – Many barbers are often asked to work on-site at residential care facilities to keep the residents looking and feeling their best.
Florida Academy Restricted Barbering Program
So what's the secret to becoming a barber that reaches career success? A solid foundation. And you can get that solid foundation at Florida Academy.
Florida Academy offers a 600-hour Restricted Barbering program so that you can pursue your dreams. We offer state-of-the-art classrooms and equipment with a perfectly balanced curriculum blend of hands-on learning and professional instruction. Our instructors are experts in their field and will help you gain the knowledge you need to reach success in the barber industry.
Pursue your passion. Reach success.
Contact Us Today!!