The Recession-Proof Beauty of the Salon Industry
by
When people think of recession-proof businesses and industries, some of the things that come to mind first include the grocery and IT sectors. Everyone has to buy food and they need to communicate, but there's also an inherent drive that surfaces when they're feeling down. Evidence suggests that no matter the circumstances, the average person still wants to feel good about herself. This is the main reason why the beauty industry is considered one of the most recession-proof areas of the economy and is definitely something that those looking for career opportunities should look into.
Is There Really a Recession-Proof Career?
Faced with difficult economic times, people will often look for ways to keep their livelihood stable. Being able to maintain employment while friends and neighbors are losing work or confronted with hardships can be a great comfort. No industry is truly recession-proof, but there are certain fields that do much better than others when the economy is in a downturn.
A career is able to withstand the burdens of a slower economy when it provides goods or services that people need no matter the circumstances. Food production is an excellent example since everyone needs to eat. Repair services and consignment shops generally fare better, too, since it's usually cheaper to get things fixed or purchase used items at a discount than getting everything new. Economists have also seen evidence that the beauty industry incorporates some of those careers thanks to the "lipstick effect."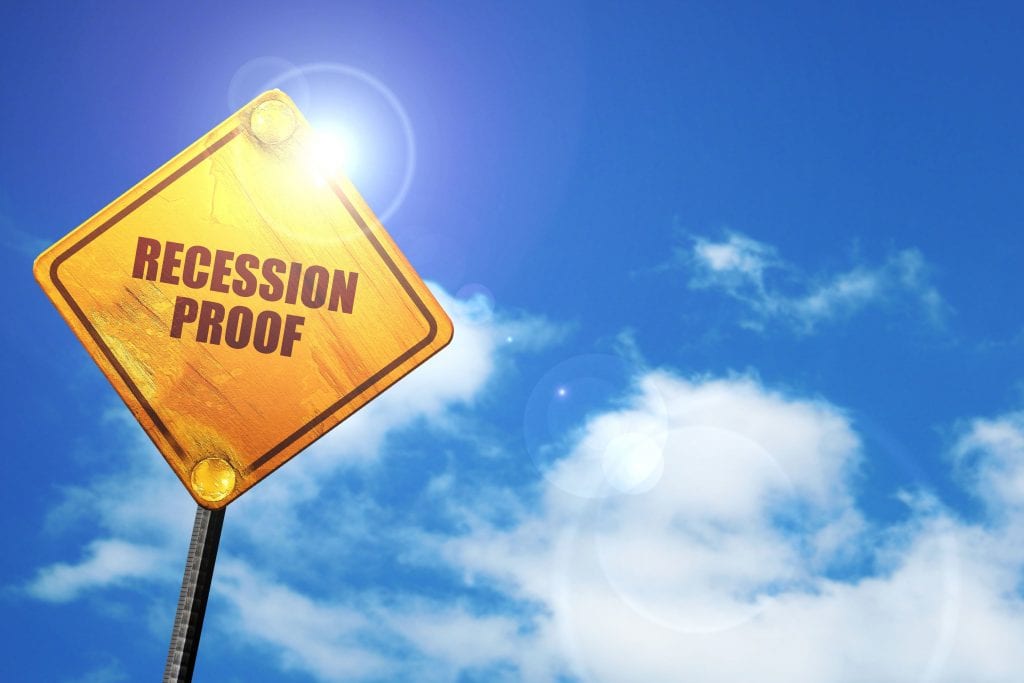 What Is the Lipstick Effect?
In economics, there is a term specifically pointing to the inherent stability of the beauty industry called the lipstick effect. It states that, as other purchases go drop during a recession, lipstick sales continue to remain steady or even increase. The thinking revolves around a desire to look good outweighs or even helps to lessen anxiety about finances. Lipstick is generally an inexpensive item, so spending some extra money on a new shade every now and then is a great indicator that people turn to beauty during desperate times.
Getting a new tube of lip coloring isn't the only way citizens can personally take on an economic downturn. A 2013 study shows that nail polish may be replacing lipsticks as the feel-good cosmetic of choice. This alternate "affordable luxury" from the cosmetics industry provides the same sense of stability and a focus on beauty that other commodities like lipstick have in the past. This is an excellent sign for those interested in finding a recession-proof career.
Are Salons a Good Career Choice?
It's hard to imagine life without getting hair cut and styled. Walking out of a salon with a fresh new do is one of the best feelings around. Even in hard times, people don't change and many will still look for that feeling especially if it takes their minds off of the current situation.
According to census data, an analysis of the Maryland beauty industry showed substantial growth of barbershops and salons during the 2007 to 2009 recession. With an increase of over 18% for barbers and over 14% for salons during that period, it's easy to see that people actually make self-image related appointments more in times of economic turmoil than when everything is running smoothly. In addition, people looking for jobs need to look professional and nothing boosts confidence and appearance like a trip to the salon.
Are Barbers and Stylists the Only Options?
This census data focuses more on the locations than individual professions. A beauty salon nationwide or locally probably has more than just stylists on hand to take care of its customers. There are a variety of careers in the beauty industry that will help guide prospective professionals through a recession.
Cosmetology: The lipstick effect got its name for a reason. For people interested in beauty services outside of the traditional salon experience, working with customers to educate about the most effective application and color palettes is a great way to explore a creative side while still being technical about your profession.
Nail technician: Another option for those with an artistic streak, nail technicians learn how to properly care for nails and nail beds as well as applying various types of polishes. With polish being the reigning affordable luxury, it makes sense that these careers are a great choice.
Skincare: Everyone loves a facial. It's one of the most relaxing activities a person can get, and it helps to keep skin looking young and feeling soft and smooth. Salon employees that focus on skincare have the advantage of helping people look their best at a foundational level.
Massage therapy: Sometimes a relaxing massage is exactly what people need to brighten their day. Learning the most effective massage therapy practices helps employees to bring some relief, which is a much-needed feeling during a recession.
The beauty industry is full of opportunities that will help forge a recession proof career, no matter where your skills lie!
Where Do I Start?
Once you've decided to create a more stable future by looking into a beauty service profession and have chosen a particular field, you'll want to look into certifications that will allow you to practice in local salons. If you're interested in becoming a nail tech in Tampa, for example, you'll want a beauty school in Florida that provides the right accredited courses.
That's where Florid Academy comes in. With the kind of coursework in cosmetology, nails and other staples of the beauty industry, you'll get the kind of education you need to help start a successful career in Salons all over the Sunshine State! Contact Florida Academy to learn how you can get started on a recession proof career today!