Repair or Replace HVAC System?
by
Whether to Repair or Replace Heating and Cooling System
Have you been having trouble with your home's HVAC system? If you're struggling to determine whether to repair or replace HVAC miscellaneous parts—or even the entire system—Florida Academy is here to help.
Read about some of the most common HVAC issues below and learn how to evaluate whether you're better off completing HVAC system repair or replacement depending on your situation.
Typical HVAC Problems
Won't Turn On
An HVAC fix can happen in many forms. For example, if your furnace, air conditioner, or water heater won't turn on, check that your thermostat is powered on and is in the right setting. You might even see a warning to replace the battery which you can proceed to do.
If neither works, try opening the thermostat and gently cleaning off any dust, resetting the time and date on electronic timer models, and checking to see whether your circuit breaker was tripped. None of these solutions should require you to replace your HVAC unit.
Wrong Temperature
Before you start deciding whether to repair or replace your HVAC system because of an incorrect air or water temperature, ensure that the thermostat is on and set correctly. If this doesn't provide you the quick HVAC fix you need, adjusting the thermostat a couple of degrees might.
Otherwise, see if the circuit breaker was tripped or if your air filters are clogged—but make sure your unit wasn't just unplugged before doing so. If everything is fine, you might need to call a technician about replacing or repairing HVAC components at their discretion.
Low Airflow
Low airflow from your furnace is usually caused by dirty air filters, while that of your air conditioner is because of frozen evaporator coils. Changing your air filters and turning off your AC unit are easy HVAC fixes, but you'll want to call in a professional to be sure you don't need maintenance or have a refrigerant leak, respectively.
Take care of this before the system gets too overworked and fails: this would mean the costlier installation of a new unit and/or parts.
Puddles
If you see puddles outside of your furnace, it could be normal condensation, an issue with its humidifier, or an internal drainage problem. A pool of water coming from your air conditioner is a telltale sign of frozen evaporator coils, but it could also be a clogged drain line, damaged parts, or a refrigerant leak. In any case, call your local HVAC repair guys to repair or even replace your HVAC system if need be.
Weird Noises
A sump pump, furnace, air conditioner, and water heater may hum or groan as they switch on and off during normal operations. Once you start hearing squealing, shaking, grinding, etc. it's probably a sign of wear and tear on the inner workings of your HVAC system. This is not something you should ignore or wait until it disappears on its own—most likely, it will worsen.
Call an HVAC expert so they can assess the sound and let you know when to replace the HVAC system or repair it.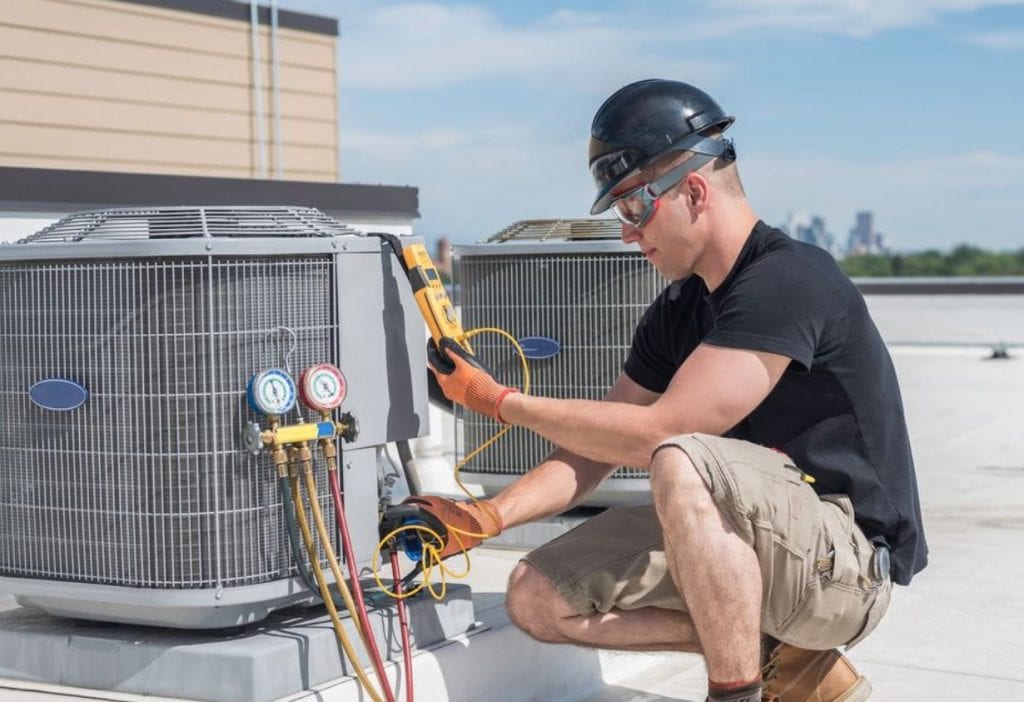 When to Perform HVAC System Repair
When it comes to HVAC system repair, it's best to go through with it when the overall system runs smoothly and you aren't calling to replace HVAC units or parts very often. Repairing HVAC elements instead of replacing them is better for relatively new systems. This is also the case when the HVAC fix is simpler and doesn't surpass 50% of the price of a system replacement.
Try counting the total cost of all the times you've had your system fixed and not just each individual bill to get a more inclusive cost comparison!
When to Replace HVAC System
Deciding whether to repair or replace your HVAC system components is a serious undertaking—with the cost usually being the biggest consideration. You should take the option to replace an HVAC unit or system when it's older. This is because it will no longer be as energy- or cost-efficient as a newer one. Otherwise, you'll be spending more money from constant repairs and continuous leakage.
Older models may not be as good at controlling your home's temperature and humidity either. This could leave you susceptible to air pollutants such as dust, allergens, and mold spores that threaten the health and safety of your family.
Other considerations to make in your repair or replace HVAC decision are the system ROI, potential tax incentives, and whether the unit size(s) fit your home correctly.
Florida Academy HVAC Program
Get a full understanding of your home's heating, ventilation, air conditioning, and refrigeration system by attending the accredited Florida Academy HVAC/R Technology program.
Our 600-hour evening curriculum and experienced instructors will help you learn how brand-name industry equipment (e.g., Carrier, Bryant, Lenox) operates as well as how it is repaired, replaced, and maintained. Jump in and complete your own gas line cut and assembly and voltage line wiring with our access to air conditioning units, furnaces, heat pumps, commercial RTUs, and electrical boards.
Join the Florida Academy HVAC Program to prepare for a quicker industry entry into an in-demand position as an HVAC installer, maintenance technician, service technician or sales representative. Every home needs the support of an HVAC professional—you could fill that role whether you work for a private company or yourself!