Top Products You Need for Any Makeup Look
by
Whether you're going for a glam look or a natural, dewy look, the right beauty products make all the difference. Building the perfect makeup collection might seem overwhelming, but knowing the basic products you need can help get you started. From primer to highlighter, each makeup product adds a special touch to any makeup look you decide to do. Read on to find out the top beauty products to have in your makeup collection.
Overview About Makeup
When it comes to looking and feeling your best, dressing well and adding the right accessories are a must. But what perfectly finishes off the look is makeup. Whether it is simply filling in your brows or adding a bit of lip liner, makeup has the power to enhance your features and make you look your best.
Research has shown that using makeup can boost your confidence and make you more sociable and assertive. The makeup you wear can make different impressions on people, and many times, makeup can be an outlet for creativity. It even has the potential to create friendships. Studies indicate that makeup is one of the characteristics that can determine who to form friendships with.
The Perfect Makeup Collection
Enhance your natural beauty with these must-have makeup products:
Primer
The art of makeup needs a good canvas to start on. That's why skin preparation is so important. You can achieve a great base for your makeup by prepping your skin with a primer. Primer helps smooth out pores, ensures that the makeup can properly stick to your skin, and can even act as a moisturizer. There are dozens of primers to choose from—hydrating, mattifying, luminizing, and more. While it can be challenging to know which type of primer to use, the key is to know your skin type. If you are prone to oily skin, choose a mattifying primer. If your skin needs a bit of moisture, opt for a hydrating primer.
Liquid Foundation
If primer is the canvas, foundation is the base coat. Liquid foundation is spread all over your face to create an even base for the rest of the makeup. It helps cover blemishes, correct skin tone, and blur any imperfections. The most important thing when it comes to applying foundation is to ensure that it matches your skin color.
Concealer
Concealer is like foundation but thicker to help hide dark circles, age spots, redness, and other blemishes that foundation cannot fully cover. Usually, people apply it under the eyes and to help contour. While there are many types of concealer, the most popular ones are those that come in a tube with a doe-foot applicator, the spongy, fuzzy tip at the end of a plastic wand. This helps with precise targeting and covering of any blemishes.
Eyebrow Pencil
Eyebrows are one of the most noticeable features on your face, which means that they also need to be paid attention to when you are doing your makeup. A full, shaped brow helps perfectly complement any makeup look. To get the perfect brow, use an eyebrow pencil to shape the arch and fill it in with light strokes for a hair-like appearance. Like foundation, brow pencil color is important. Make sure to choose one that best matches your natural hair color.
Eyeshadow
From glam makeup to every-day makeup, eyeshadow is necessary to create depth in your makeup look. Eyeshadow is great because it comes in a huge range of colors—you can choose from the most neutral of browns to the darkest of blues. Eyeshadow also comes in different sheens, like metallic or glittery. Regardless of the color you choose, makeup can help accentuate your eyes and make them pop.
Mascara
A staple in all makeup collections, mascara is the cherry on top of any eye look. Mascara helps thicken and lengthen lashes, making a huge difference. People love it for the instant lift it provides and how it goes with any makeup look. You can layer mascara coats for a dramatic, full effect, or use one swipe for natural-looking, wispy eyelashes.
Finishing Powder
Of all the makeup products you need, finishing powder—also called setting powder—might be one of the most important ones. It helps lock liquid products into place and extend wear, helping you carry a makeup look from day into night.
Blush and Bronzer
Bronzer helps add depth and dimension to your face when you use it to contour. To perfectly compliment bronzer, swipe blush onto the apples of your cheeks to help create a glowy, flushed look. Both bronzer and bush come in different shades so that you can choose one to perfectly complement your skin tone.
Highlighter
Powdered or jellied, beaming or subtle, highlighter can make a makeup look go from muted to incandescent. Highlighter helps mimic the effects of good lighting on your face. When you apply highlighter properly, cheekbones pop, eyes brighten, and skin glows.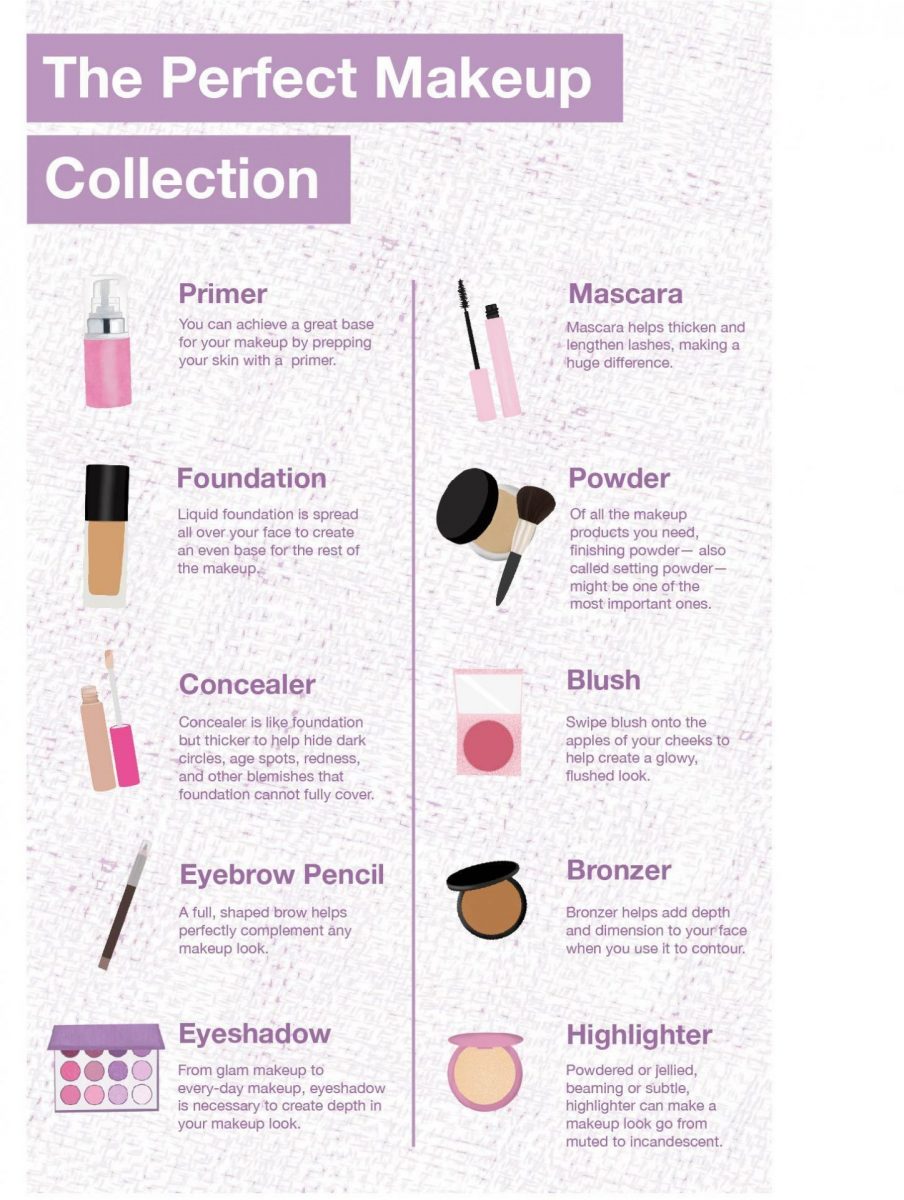 Get the Makeup Training You Need
At the Florida Academy Cosmetology Program, you'll learn how to use these basic makeup products to create everything from red-carpet-ready looks to glowing natural looks. Our instructors are experts in the cosmetics industry, ensuring that you'll get a quality education that will prepare you for a rewarding career in makeup and cosmetology.
Ready to start your professional makeup journey? Contact us today to get started!