Ready To Spring Clean Your HVAC System? Here's What You Need to Know
by
This spring, don't overlook one of the most important things that needs cleaning: your HVAC system! A clean HVAC system brings many benefits to your home, from energy savings to minimizing allergies.
Need some spring HVAC cleaning ideas? We got you covered. Read on to find out all you need to know about cleaning your HVAC system.
Spring HVAC Cleaning Checklist
These spring HVAC cleaning ideas will help get your HVAC equipment ready for the season!
✓Change Filters
Perhaps one of the most important (and often overlooked) things you can do for your HVAC system is to replace all your filters. As time passes, the filters collect dirt, dust, and grime. The dirtier your filter is the more it'll block airflow. This lowers efficiency—and can even cause your system to malfunction.
To keep your system in tip-top shape, replace the filters regularly. This helps ensure good air quality, lower your energy bills, and even help minimize allergies. HVAC professionals recommend replacing your filters every 30 to 90 days.
✓Clean Exterior Unit
The outside parts of your HVAC system are just as important as the interior. These components are often the ones that are left outside to the elements, so they undergo more wear and tear. Cleaning these doesn't have to be difficult. Simply turn off the power to the unit, remove any debris, and spray it down with a hose.
You can also use a vacuum with a soft brush attachment to get any dirt out of the unit. If it's near any vegetation, be sure to cut the plants growing around it to avoid future problems.
✓ Clean Windows
Cleaning windows reaps many benefits for homeowners. It gets rid of allergens that have settled onto the sills and allows more light to enter your home. Studies also indicate that the more often you clean your windows, the longer they'll last.
To clean your windows, dust off the sills with a microfiber cloth (to ensure you pick up all the dirt and dust). Next, move onto the panes. For this, you can use whatever window cleaner you have on hand. You can also mix one part distilled vinegar to 10 parts warm water for a natural alternative.
✓ Seal Windows
Once you've cleaned the windows, it's time to seal them. Sealing windows helps you save money on your energy bill by preventing drafts. It is estimated that you could save between $83 and $166 on cooling and heating costs a year if your home is properly sealed.
To properly seal a window, you need to caulk the outside of the window and weatherstrip the inside. Before caulking, be sure to scrub away dirt and dust, then wipe the surface clean. Weatherstripping should be used around the window sash to be effective.
✓ Clean Return Air Vent
Return air vents are the vents that pull air out of your home to take to your HVAC system. These vents should be cleaned regularly to ensure maximum airflow and efficiency. It's also a good idea to clean them because mold can easily form in the air vents if it is humid—and the last thing you want is mold spores being distributed throughout your home.
Before cleaning the vents, turn off the heat or A/C. If the vents are near furniture, cover up the furniture so it doesn't get dirty. Use a dust attachment on your vacuum cleaner to clear away any grime or dirt on the vents. For the best clean, use a microfiber cloth to pick up anything that the vacuum missed.
✓ Duct Cleaning
Don't forget about the ducts! Ducts are essential to circulating air throughout your home, but they are often missed when it comes to cleaning an HVAC system. Dirt, dust, mold, pet dander, and more can collect on the vents and make their way into the air you breathe—that's why it's important to keep your ducts clean.
Sorry DIYers, there's no way to do this on your own. For duct cleaning, it's best to contact the professionals. Getting your ducts professionally cleaned not only provides an effective clean but also ensures a safe method of cleaning.
✓ Call the Experts
Spring cleaning your HVAC system can be a lot. Contact your local HVAC experts to help you out with anything you may need!
Pro Tip: Check your system's thermostat batteries to make sure they're working properly. A lot of times, homeowners think that they have a malfunctioning HVAC system when it's really just their thermostat!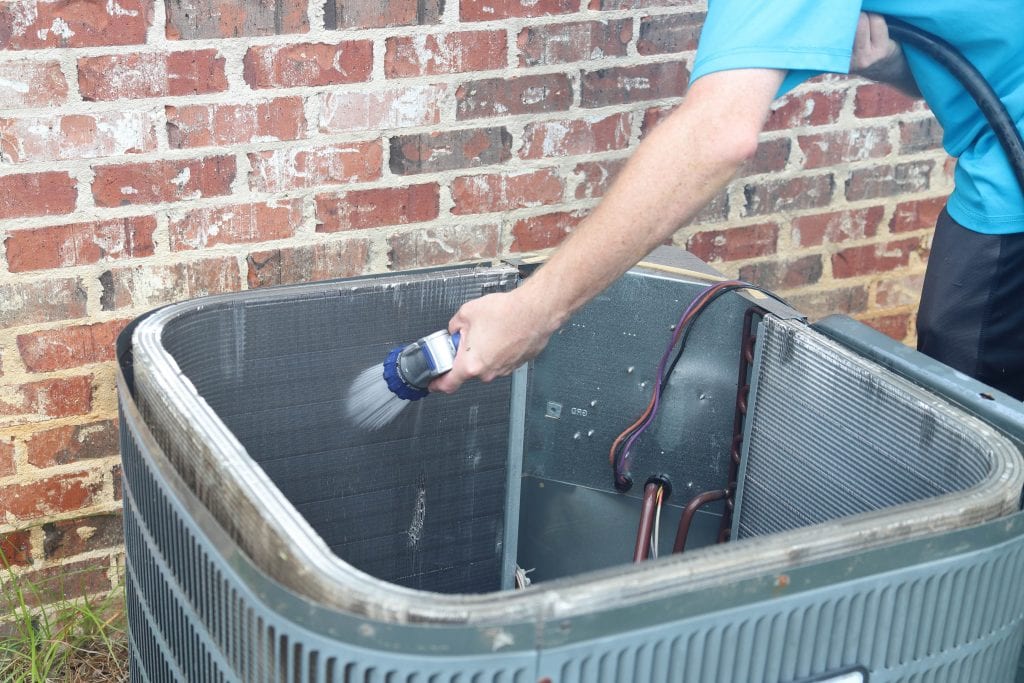 Interested in an HVAC Career?
HVAC technicians are the silent stars of a comfortable, well-operating home. They help keep homes running and homeowners happy.
At Florida Academy, you can become an HVAC technician in less than a year! Come learn at Florida Academy, where our instructors are seasoned professionals and our technology programs are built around trusted brand names. Our modern workshop features every appliance you need to learn about as a technician, including:
Air conditioners
Furnaces
Heat pumps
Commercial RTUs
Electrical boards
Air distribution systems
Soldering and brazing
Black pipe
Ready to launch your career in the HVAC industry? Contact us today!