DIY Hair Strengthening: Tips & Tricks
by
The winter months can make hair brittle and dry. This winter, take on the colder weather with a couple of hair-strengthening tips in your arsenal—you'll be glad you did. Nourished, glossy hair can be yours all season long!
Read on to learn more about DIY hair strengthening tips and tricks, including what causes weakened hair and why.
Hair Types
In order to know how to strengthen your hair, you need to know your hair type. Knowing hair type will help you best nourish it. After all, not all hair types can be treated the same. Some hair needs more TLC than others.
Common hair types include:
Type 1: straight hair
Type 2: wavy hair
Type 3: curly hair
Type 4: coily hair
Common Types of Hair Problems
Strengthening your hair is beneficial because it can help with hair damage, hair loss, split ends, and more. Here are other types of hair problems to be aware of:
Breakage
Greasiness
Frizziness
Split ends
Hair loss
Dandruff
Some strengthening treatments can help with some of these problems—so stay tuned.
Symptoms of Weakened Hair
It's easy to overlook weakened hair, especially if the changes happen slowly over time. Regardless, take a look at your hair. If you notice any of the following symptoms, chances are your hair is weak and needs a bit of refreshing.
Signs of weakened hair include:
Hair that's dull and lifeless
Split ends
Dryness
Frizziness
Rough hair
Abnormally tangled hair
Hair that breaks more than usual
Thinning hair
Hair that cannot be styled – i.e. curled or straightening just doesn't work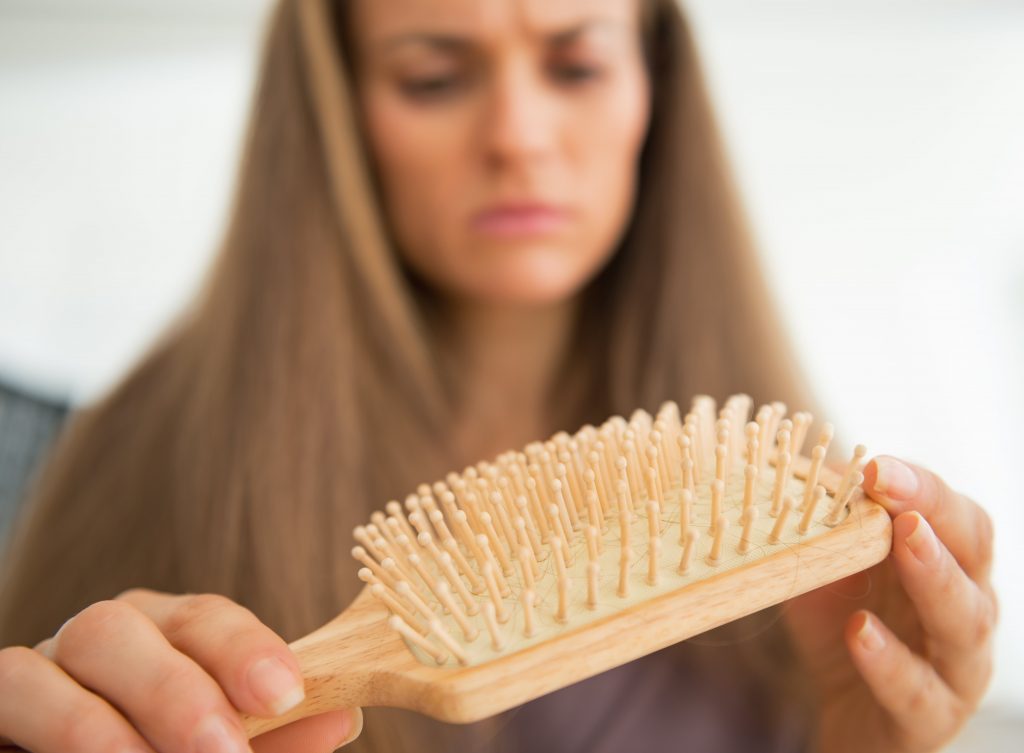 Causes of Weakened Hair
Now that you know the characteristics of weakened hair, let's dive into the why. Many people don't realize that their daily habits can be leading contributors to weakened hair and overall damage. The little things that we don't think of—like straightening or overexposure to the sun—make a difference.
Common causes of weakened hair include:
Genetics
Genes greatly influence hair growth, type, strength, and overall health. So chances are if you're experiencing weakened hair, it's passed down from your parents. Luckily, there are things you can do to help protect your hair and avoid excessive weakening.
Excessive Heat
Overexposure to heat causes damage. If you love to straighten, curl, or blow-dry your hair…we've got some bad news. Commonly using heating tools puts your hair through the wringer, especially if you do not use any heat-protectant products. Similarly, constant sun exposure can damage and dry out your hair, leading to weakness.
Vitamin Deficiency
It's a known fact that diet affects your hair's health. B vitamins are essential to hair growth. If your diet lacks vitamins and minerals, chances are you'll see adverse effects on your hair, skin, and nails.
Hormonal Imbalance
Some hair issues are more than just about hair. Hormone imbalances lead to complications in your body, and weakened, damaged hair can be a byproduct. Menopause may also affect hair's vitality and growth.
Protein Deficiency
Similar to vitamins, protein deficiencies can wreak havoc on your hair. Hair is made up of a protein called keratin. Keratin is developed in the hair follicle—and if you have a protein deficiency, it won't grow properly, leading to shortened hair growth and weaker strands.
Home Made Remedies To Strengthen Hair
Think you might have weakened hair? Don't worry—there are plenty of DIY treatments to strengthen hair you can do. Many are with pantry staples, making them easy on your wallet and great for your hair. Check out these top DIY hair strengthening remedies:
Try a Coconut Oil Hair Mask
Coconut oil is a miracle worker. From cooking to skincare, this oil packs a ton of benefits in everything it is used in. And haircare is no different.
If your tresses need some TLC, give coconut oil a try. Its penetrative and moisturizing properties help make hair healthy and strong again. Start with two tablespoons of melted down coconut oil. Dampen your hair, and massage the oil throughout your scalp, slowly working it down to the ends of your hair. By the end, your hair should be entirely covered with coconut oil. Put on a cap—or tie a plastic bag around your hair—and wait 30 minutes. Then, rinse it out with shampoo.
Eggs for Hair? It Works!
It might seem strange, but this breakfast staple is great for hair. Tried and tested by NYC stylists, egg yolks have become essential in taking hair from blah to beautiful.
To reap the benefits yourself, mix an egg yolk or two (how much you need depends on how much you have) with some lemon juice. Apply it to hair and wait for 30 minutes. Rinse it out with shampoo and enjoy healthy hair! The egg yolks support hair strength and nourish your hair follicles, so when you massage it in, make sure to work it onto the scalp.
Make a Homemade Hair Tonic
DIY hair care at its best, a hair tonic can help give your strands some shine. The best part? You can use it regularly to enjoy the benefits whenever.
To make this hair tonic, boil two tablespoons of crushed parsley seeds, ½ cup of rosemary, and two cups of water. Once boiling, turn off the heat and let the ingredients soak for about 25 minutes. Next, strain and pour into a spray bottle. Spritz it onto clean hair and wrap it up in a towel for an hour. Then, let it dry naturally.
Give Your Scalp a Massage
It seems too good to be true, but simply massaging your scalp can help promote hair growth, leading to stronger, healthier hair.
Massage your scalp with your fingers, using circular motions for several minutes—that's all there is to it! YOu can do this daily.
Research-Based Tips To Strengthen Hair
Now that you know some DIY remedies for hair, read up on hair-healthy habits to practice every day. Your hair will thank you!
Reduce the use of styling tools that use heat
Eat a healthy, balanced diet that includes lots of whole foods and minimally processed ingredients
Wear a hat when you're out in the sun
Use lukewarm to cool water to wash and rinse your hair
Use hair products that contain aloe vera
Learn Hair Care at Florida Academy
Love hair care and everything it encompasses? In less than a year, you can be fully trained in certified in cosmetology, allowing you to work on hair, makeup, skin, and more!
Join Florida Academy and learn everything you need to know about cosmetology. The program includes:
Use the latest trends in haircutting, coloring, and design
Master hair texture concepts and create the haircut or style that makes clients raving fans
Provide nail services such as manicures and pedicures, as well as skincare procedures
With lots of hands-on practice and renowned instructors in the industry, you'll experience a state-of-the-art learning experience that will provide you with the tools you need to succeed in the cosmetology industry. Learn more at https://florida-academy.edu/.