Your Complete Guide To Building Barber Clientele
by
Got the barbering skills, but not the clients? Don't worry—we got you.
Read on to find out all about building barber clientele, including tips and tricks to get a returning customer base and the best barbering program out there.
All About the Barbering Business
Ever think about the barbering industry as ancient? It's not commonly known, but barbering dates all the way back to 3500 B.C., where ancient Egyptians would use oyster shells and sharp flint to cut hair. Flash forward thousands of years, and here we are: the modern barbering industry worth billions of dollars, where rappers pay thousands for a fresh fade and there's a barbershop on almost every corner.
Barbers today work in tons of industries—not just the barbering one. You can live out your haircutting dreams in the movie industry, music industry, theater industry, news industry, and more. Wherever there are people that will be seen, they'll need someone to make them look good. And that's where barbers come in.
Barbering can be a tough trade. Not only do you have to go to school and learn all the latest trends plus common hair cutting techniques—but you also have to build up clientele in order to become financially successful. A group of returning clients means more business and more money in your pocket. But how do you build up clientele as a barber? Read on to find out.
6 Ways To Get More Clients
Build your barber clientele and boost your business with these seven tips:
Find the Right Location
Not all locations are created equal when it comes to barbering. Location is key. Here's how to pick a prime location for your business:
Find an area that doesn't have too many barbering competitors. It's hard to establish yourself and get new clients in a place that is already full of barbers.
If you're an independent barber, find a shop with an open seat in a busy location. More clients means more hands on deck—which means you're likely to get hired.
Check out the foot traffic. If a location seems solid, competitor-wise and neighborhood-wise, it's time to evaluate the foot traffic. Working at a shop next to other small businesses could increase the number of people that see your shop and stop by.
Last but not least, consider this list of best cities for barbers:
Atlanta, GA
Las Vegas, NV
Jacksonville, FL
Dallas, TX
Baltimore, MD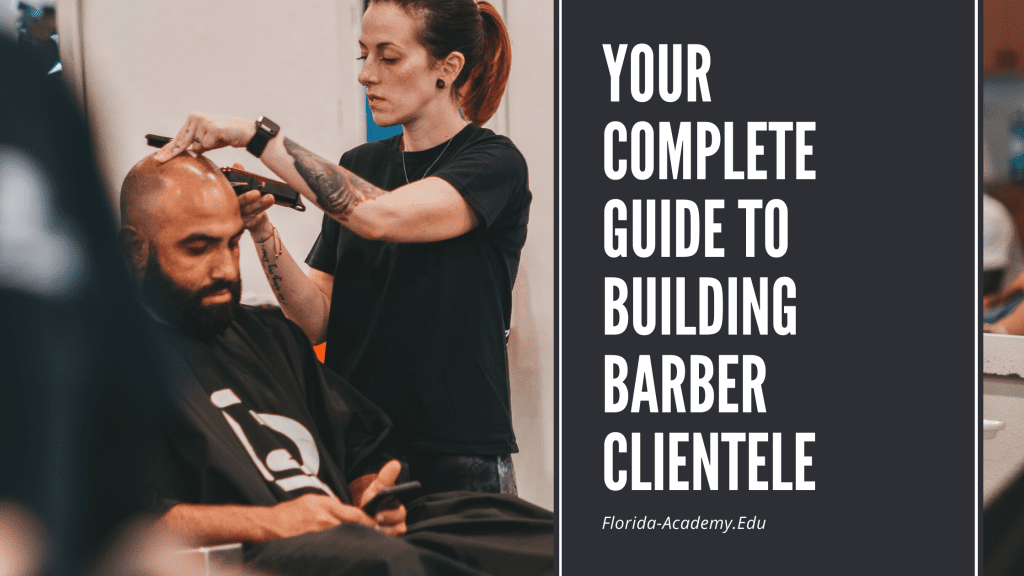 Share Your Business Card & Social Media
There's nothing like good ol' traditional marketing to get your business going. Business cards are a great way to boost your business. Hand out your business cards to your existing customers, or put them up on community bulletin boards where people can see them. Similarly, social media can help. Create an Instagram or Facebook account dedicated to your barbering skills and get people to follow. These days, social media does a lot of heavy lifting when it comes to finding clients.
Keep It Real
It's important to remember that you're not just cutting hair. You're helping people feel their best. When a client is in your chair and you have your clippers out, make an effort to connect with them on a personal level. Talk to them about their day or chat a bit about yourself to get the ball rolling. Conversation doesn't have to be deep—but when a client feels seen and heard, it'll create a relationship that can keep them coming back for years.
Make It Memorable
It's in the little things. Make your client's experience with you unforgettable by doing any of the following:
Keep magazines around that your client would enjoy
Ask your client if they have any preference in music or song requests so that you can play it while cutting their hair
Put a hot towel on your client's face—not only is this relaxing and makes the experience spa-like, but it also opens up the pores and smooths out hair
Provide refreshments—simply having water bottles on deck adds a touch of sophistication to the experience.
Know Your USP
Even if you pick a location with fewer competitors, you still need a USP to turn prospects into clients. Your USP—or unique selling proposition—states the reason why people should go to you for business instead of anyone else. Your USP can be your competitive prices, your outstanding customer service, or a swanky setting. Find that niche and run with it!
Promotions, Promotions, Promotions
Who doesn't love a good sale? Running a promotion is a great way to get clients into your barber chair and introduce them to your services. Here are popular barber discounts:
First-time client discount
Seasonal promotions
Referral discounts
Why the Right Education is Important
Education makes all the difference in skill. You wouldn't train to be a master chef at a McDonald's. So why would you train to be the best barber at any institution?
The right barbering education will set you up for success by providing you with the right skills—and not just in haircutting. A good barber program should have the following:
Hands-on training in a simulated barbershop setting
A small class size to get individualized instruction
Flexible class times
Instruction from industry professionals
Hair structure, cutting, and cleansing course
Safety, sanitation, and sterilization course
Shaving, beard, and mustache trimming course
Instruction on barbering laws and business
Florida Academy Helps Build Barber Clientele—Here's How
Remember how we said you need the right barbering education? Well, look no further because Florida Academy is here to help!
Florida Academy's restricted barbering program teaches you all you need to know about barbering and how to succeed in the industry. Our instructors are renowned for their skill level and experience. When you train at Florida Academy, you can rest assured that you're getting the best barbering education out there.
Don't wait—start your barbering career today! Visit us online to enroll.