How to Administer a Hot Stone Massage
by
Whether you suffer from chronic pain, stress, or muscle soreness, it's hard to know which solutions will provide true relief. Before throwing in the towel, give a hot stone massage a try. This therapeutic massage technique—which is commonly applied to the back, upper chest, and legs—utilizes smooth, heated stones to provide pain and stress relief.
If you're interested in knowing how to administer a professional hot stone massage, take a look at our hot stone massage guide.
The Importance of Massages
Besides serving as an effective form of stress relief, massage therapy also provides various health benefits. Here are the primary benefits that hot stone massages offer.
Pain relief: Hot stone massages treat chronic pain, sore muscles and muscle spasms, and various injuries. They also can reduce blood clots by improving blood circulation.
Relaxation: By increasing the release of endorphins, hot stone massages are a form of stress relief. This self-care technique can also improve mood and energy levels.
Improved mobility: By applying heat and pressure to the muscles, hot stone massages improve one's flexibility and range of motion.
Step by Step Guide To Administering a Hot Stone Massage
If you're curious about how to do a hot stone massage, check out our comprehensive hot stone massage guide below.
Prepare your massage space: Set up the massage table, set a folded sheet or towel aside, and gather the stones you'll need. Make any other preparations as desired, such as lighting candles or turning on relaxing music.
Heat the stones: The stones are typically heated in a water bath using a portable infrared heater.
Guide the client: Have your client lie face down on the massage table.
Protect the skin: Place a sheet or towel on the skin to protect it from burns.
Position the stones: Place them along the client's back and legs, focusing on pressure points. Let the stones rest in that position for about five minutes to allow time for the heat to set in.
Apply pressure: Move the stones along the client's body, using gentle movements and circular patterns. This pressure and movement are what provide relaxation and pain relief.
Repeat the process: Have your client flip to the other side, and follow the same steps. Instead of placing the stones on the back and legs, place them on the upper chest and legs.
Final steps: Remove the stones, and clean up your massage space.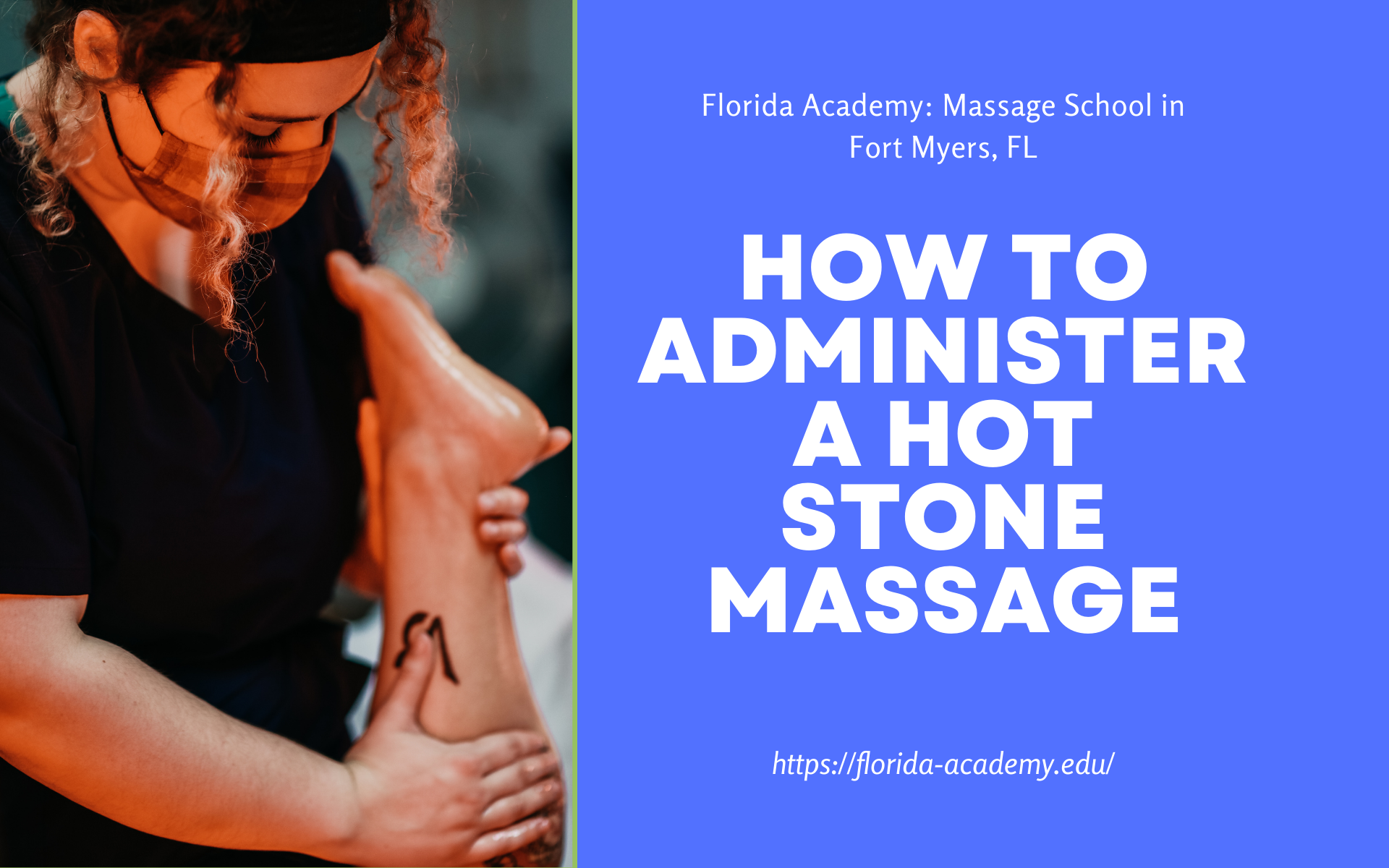 Top 2 Types of Hot Stone Massage Techniques
Among the various types of hot stone massage techniques, Swedish and deep tissue are the most popular.
Swedish: The massage therapist uses long strokes and circular motions to apply pressure to the client's muscles and joints. This technique relaxes the muscles and increases circulation in the body so it can better heal from injuries or illness.
Deep Tissue: Deep tissue massages utilize long strokes and deep pressure to release muscle tension and relieve pain in targeted areas. This technique is best for clients who experience chronic pain or need relief from long-term injuries.
Looking To Pursue a Career in Massage Therapy?
If you're ready to become a licensed massage therapist, there's no better way to kickstart your career than by completing the accredited massage therapy training program at the top massage school in Fort Myers. By combining expert classroom instruction with practical hands-on training in a professional salon setting, Florida Academy's program prepares students for long-term career success.
To see where our facility is located, check out our Google profile. Apply to our massage therapy training program today to jumpstart your career as a massage therapist.