Top 10 Nail Art Ideas for 2021
by
10 Inspo Ideas for Fall Nail Colors and Designs
To most people, fall feels like colorful leaves, thick knit blankets, and a warm cup of cocoa.
To nail technicians and manicure and pedicure enthusiasts, it's the chance for you to experiment with warm and rich autumn hues and the latest nail trends to keep yourself looking fun and polished.
Below is a list of 10 fall nail art ideas to help you look and feel your best as you go from the apple orchard and the pumpkin patch to a cozy bonfire or football game night to begin the holiday season festivities.
Tortoiseshell
The tortoiseshell pattern has exploded in popularity in recent years and it's no surprise why: this fabulous design is the perfect way to get that sought-after dark academic look. It might take a few tries, but you can complete this nail pattern yourself by layering and lightly blending out dark brown and black irregularly-shaped spots over a tannish yellow nail background.
Caramel Apple Shimmer
Aspiring and seasoned nail techs alike recognize that sparkles can make your nail art ideas really pop. Paint on a granny smith apple green, candy apple red, and caramel brown onto a beauty sponge; then carefully press the sponge on to your nails to transfer the design.
If the nail colors didn't already come with shimmer, sprinkle a little gold glitter on top of your nails and seal it with a top coat to finish off this delicious fall nail art idea.
Fall Flannel
Classic buffalo flannel is a simple but classic plaid look that screams chilly autumn weather. Use crisscrossed, wide stripes of black over a red base color to get this nail job done right.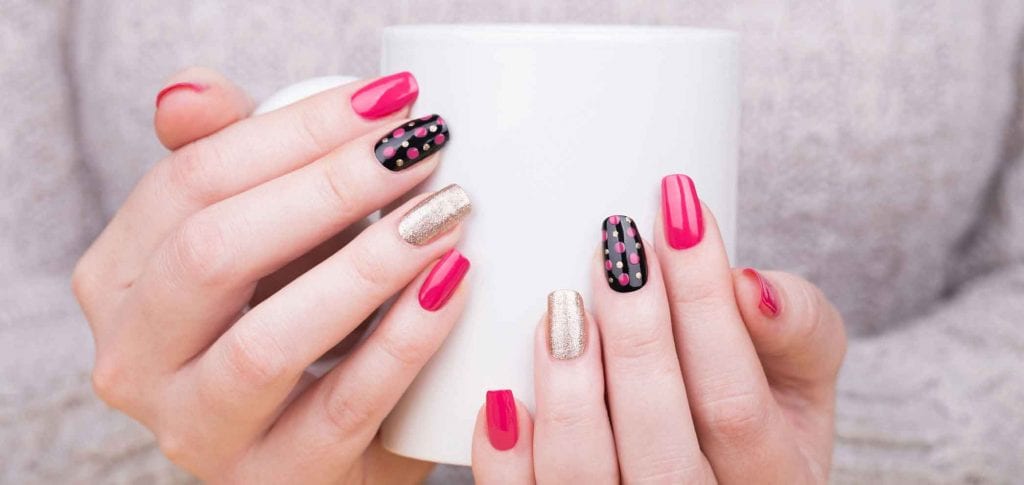 Spirited Swirls
Spook your friends in the best way possible with Halloween-spirited, swirled nails! Over a pumpkin orange, drop dots of white and black nail polish. Use a toothpick to stipple them together to manage this ghostly effect.
Fall-Season Stripes
Nothing says fall like chunky striped sweaters with nails to match! Mix thin vertical lines of copper and brown with crimson red, moss green, burnt orange, mint blue, mustard yellow, light periwinkle, and more to get this fun, playful look.
Is it game day? Swap these colors for your team's and you're good to go in a fresh way!
Dark Magic Ombre
Layer metallic green, gold, black, and purple on a sponge and apply it to your nails. Sprinkle green, purple, and gold iridescent flecks onto your nails as the "magic" finishing touch!
'70s Stripes
Retro fashion has been having a moment and it definitely won't be going away anytime soon. Your fall 2020 nail design can take it back to the '70s when you accent a rounded line of a deep red, bright orange, and classic yellow on 2 to 3 of your green-yellow painted nails.
Marbelized Mulberry
Feel festive with this fall nail art idea: marbleize a mulberry purple-red color with gold to create an elegant manicure perfect for any fall photoshoot or special occasion. This marble effect can be achieved by dipping your fingers into a dish of water containing swirled drops of these nail polish colors.
Coat your fingers in a layer of petroleum jelly prior to dipping for easier touching up.
Cold-Blooded Snakes
Elevate your night out appearance or bring out your inner Halloween spirit with a chic snake nail design. Paint a coral-scaled snake body outlined in a velvety red writhing across all your ceruleum-covered nails.
Negative-Space Crescents
This avant-garde design features off-center nude crescents over a deep, vampy red nail base color. The crescent shape can be achieved by using a stencil for a well-manicured, uniform look.
Nail Technology Program Offered at Florida Academy
Develop your love of nail art and design into something more at the Florida Academy nail technician program.
Located in our Redkin Premier School's high-end salon, our 240-hour nail technician training program will give you hands-on professional training experience so you can master the latest nail design and artistry techniques and develop robust marketing and communication skills to nurture client loyalty. This curriculum will also include lessons on nail and skin disorders, sanitation, sterilization, and ergonomics to be sure every client you encounter comes out feeling so satisfied in all service aspects that they'll refer you to a friend.
You'll learn from Southwest Florida's well-experienced professionals so you can begin an exciting career as a nail technician in as little as two months. Once you complete our accredited program and pass your final exam, you can apply for your Florida license to serve clients in hair salons, nail salons, spas, resorts, and more. This will also give you the option to be your own boss and work a self-employed nail technician lifestyle.