How to Look Younger | Anti-Aging Beauty Tips
by
Anti-Aging Beauty Tips
There's a lot of ways to go about getting a youthful appearance and younger looking skin. Taking a little extra time to treat your skin and hair with the appreciation they deserve will get you not only looking younger but maybe even feeling that way too. Read on to discover Florida Academy's anti-aging beauty tips below, beginning with our skincare tips.
Get Younger Looking Skin with Following Beauty Tips
Skin Care
Follow a facial skincare routine to get into good habits for younger-looking skin. At the bare minimum, your routine should include cleansing, toning, and moisturizing steps to clean your pores, reset the skin's pH level, and keep it hydrated. Use products that have anti-aging ingredients to give yourself a boost to younger-looking skin: search for retinoids and collagen-based products as they reduce fine lines and wrinkles and promote collagen production.
Be sure not to forget your neck and hands when moisturizing. They are often the most telling signs of mature age as the skin here is thinner and more sensitive.
Your routine can also feature eye cream to prevent aging dark circles and eye bags, as well as sunscreen (even on cloudy days!) to avoid premature sun spots and wrinkles. Be sure to do this before putting on your makeup. No matter what time you go to bed: always remember to remove your makeup to unclog pores for maximum clarity and brightness.
Keep skin young with exfoliation: this will remove the top layer of dead skin to expose the healthy skin beneath it. Exfoliate your skin across your entire body with a physical scrub and even a dermatologist-recommended chemical peel for your face. Moisturize afterward for a younger-looking skin-kind-of glow.

Hair Care
One method of how to look younger can be accomplished with improved hair treatment. Over-styling hair with heated, gel, or cleansing products can reduce your hair's shine and strength. This will leave it looking dry, dull, and brittle as the hair cuticle is damaged or your natural hair oil is over-stripped.
To revert thinning or breakage-prone hair, consider taking a biotin supplement or eating more almonds, cheese, spinach, sweet potato, salmon, beef, and sunflower seeds—these are packed with biotin to strengthen your hair.
Picking out a face-framing hairstyle with your hairstylist will help you look and feel younger. This can be accomplished with fringe, bangs, or layers beginning around the chin. You can take face-framing to the next level by having your hair chopped to a lob or bob.
The simplest path to a younger appearance is going into your salon and getting your hair colored. For a natural appearance, stick to tones that closely resemble your original hair color. Otherwise, you can use complimentary-colored highlights to enhance your hairstyle.
Makeup Tips
Makeup is another simple way to appear younger, but the techniques, colors, and formulas you utilize make a huge difference as far as execution. For example, as you get older, you should avoid high-coverage foundations and go for something sheerer. As we get older, our skin loses hydration and elasticity so makeup products such as foundation can come on cakier. A sheer formula won't create any creases either.
For areas that need more coverage, use concealer with a thicker or dryer base so it is more likely to stay in place. Dab a light shade of concealer on the inner corners and bags of your eyes to wake up your face.
Use a translucent powder to set your foundation and concealer so that your face doesn't appear too dry and face lines aren't accentuated. Rather than using a brush—which applies more product—try a powder puff just on your forehead, chin, nose, and cheeks for a light powder dusting.
Apply a hint of blush angled upwards on your cheekbones and even across your nose for a youthful, sun-kissed look. A subtle blush color between peach and coral relative to the fairness of your skin is best.
Compliment your lip color with a matching lipstick applied or blended with your fingertips for a soft, natural appearance. If you were wanting something glossy, a shiny lip balm will be far less sticky than lip gloss. Another option is to overline your lips with the corresponding lip liner so they look slightly bigger and younger.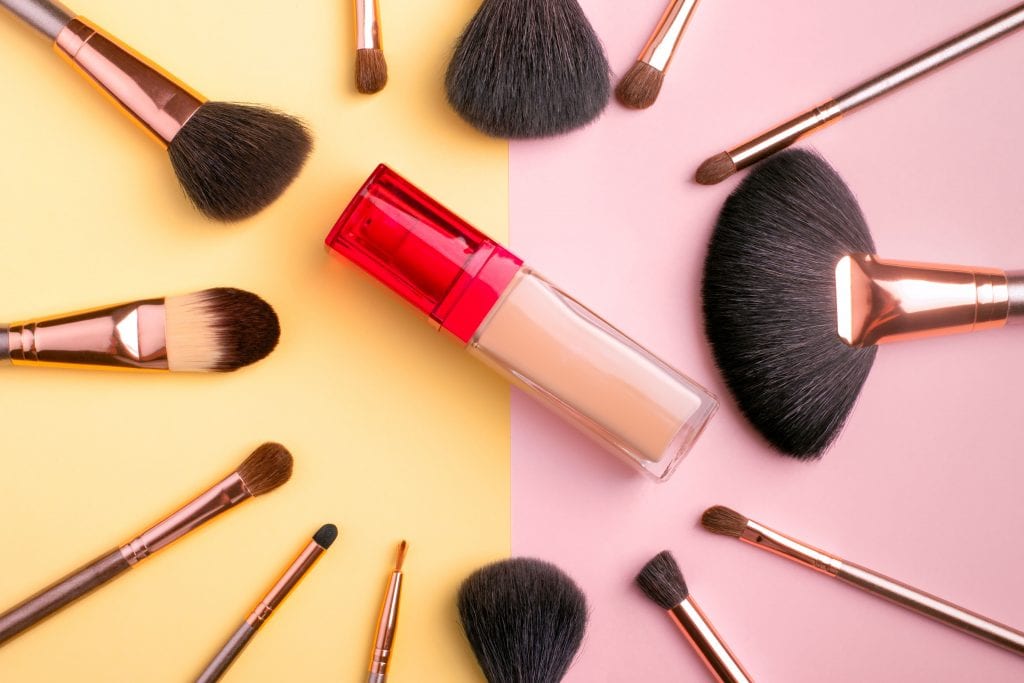 Skin Care Program at Florida Academy
Love implementing your self-care beauty routine or helping others get younger-looking skin? Take your passion a step further and become a licensed facial specialist in just 11 weeks at the Florida Academy! Our skin care program teaches skincare gurus like yourself the most up-to-date skin information and care techniques so you'll be ready to step into the beauty and wellness industry to perfectly perform any in-demand procedure and service.
When you enroll in the Florida Academy, you receive access to hands-on professional training and the modern, cutting-edge equipment you would find in the most prestigious salons, spas, and medical offices. Take your education into your own hands with quality instruction, unparalleled classroom setup, and the opportunity to work anywhere (even as your own boss!) in the industry: your career path begins at the Florida Academy.