Your HVAC Troubleshooting Guide
by
On really hot days, there's nothing better than getting out of the hot air and cooling off in your air-conditioned house. But have you ever walked in the door, only to discover that your air conditioner is not working? It's not fun. Then you worry about the cost of having to repair or replace your AC. That's no fun. What if you could diagnose or fix the problem yourself and not even need a professional to step in? That's not always the case but checking out this HVAC troubleshooting guide could save you some headaches—and maybe even some cash.
Have you checked the thermostat setup?
If the settings on your thermostat are not properly set, they could cause your air conditioning to malfunction. Maybe you need to replace the thermostat batteries. That would be a very simple fix. If that doesn't help, make sure it is set to "cool" and three to five degrees below room temperature.
Is any cool air coming in?
Check the register to see if cold air is coming into the house. If not, you might need to reset the AC unit at the circuit breaker. If everything had been working properly and stopped, it's possible there's water below the unit. If the coils are dirty, the water could freeze. Does that seem to be the problem? Turn the AC off at both the thermostat and the circuit breaker. Clean the coils, wait three hours and then restart the air conditioner.
How's the airflow?
Take a look at the thermostat's fan and make sure it is set to "continuous" and the registers (supply and return ducts) are open and clear. Find the cold air return and remove the filter. Is it dirty? If so, your AC won't work efficiently. You may need to replace the air filters if yours are disposable. If your AC unit uses a permanent filter, look in the manual to learn how to clean it. Just be sure the arrow points toward the ductwork inside when you put it back in.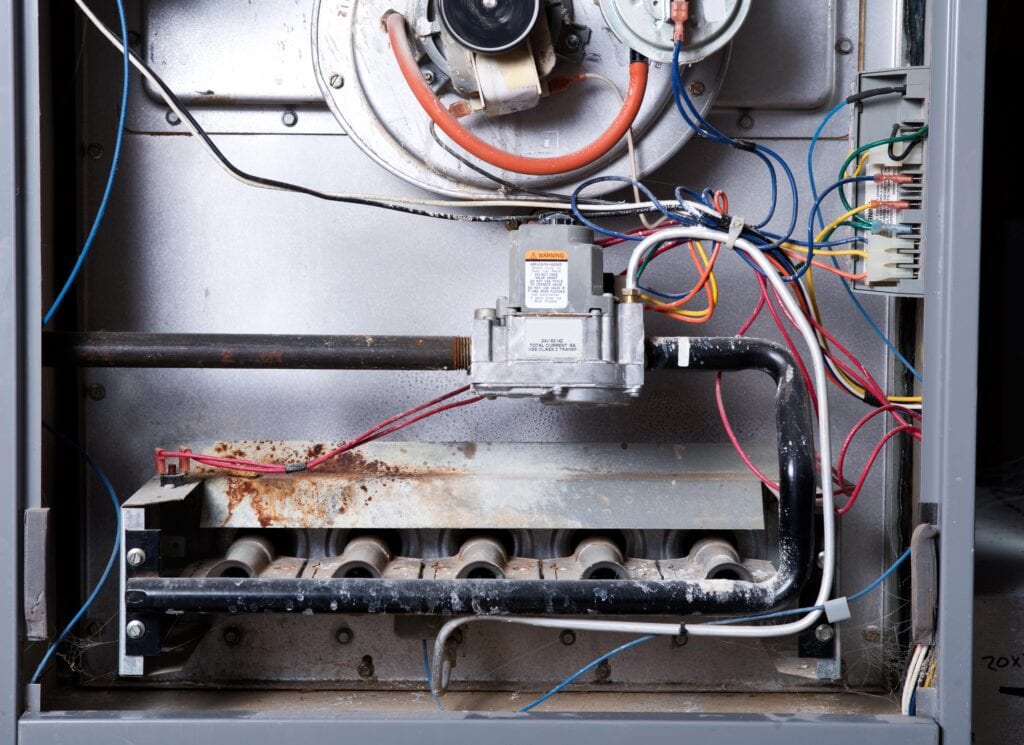 Is there noise from the AC unit?
Air conditioners can make all kinds of sounds, and each one can signify something different—usually an outdoor unit issue. If you have an old unit that is emitting a high-pitched squeal, the belt that connects the motor to the blower may have slipped and would need to be replaced. A similar sound in a newer unit is likely to be the bearings on your condenser fan's motor. A buzzing noise is more problematic and could mean there are loose parts, missing or broken isolation feet, leaks in the refrigerant or a malfunctioning compressor.
Are there any preventive steps I can take?
Not every repair can be prevented, but if you properly maintain your HVAC system you may be able to save money and extend the life of your system. Here are some suggestions:
Replace your air filters. Disposable filters should be replaced every 30 to 90 days. If you have pets or keep your windows open, you might need to do it more frequently.
Keep your outdoor AC unit free from dirt and debris. Do you see leaves, sticks, dirt or foreign objects in or around the compressor? Remove them because they could be blocking the air flow.
Clean your indoor air vents and registers. Wipe them with a damp cloth and vacuum between the slats so that air flows freely.
Turn off the humidifier's water supply in the summer. You likely don't need the extra humidity and should set it to 35-45 percent before turning it back on.
Pay attention to weird noises. Hopefully, it's as simple as debris caught somewhere or a loose bolt. If there's a wiring issue, call a professional HVAC technician.
Turn it off when the weather isn't extreme. Give the system a break and use fans or open windows whenever you can comfortably do so.
Schedule regular maintenance checkups. If you want fewer repair expenses, scheduling preventive maintenance for your HVAC system can help.
Train to become an HVAC technician.
Florida Academy offers HVAC/R technology programs in Fort Myers Florida, giving you the hands-on education that employers value. Your instructors are all industry professionals who have done the job you'll train for. Moreover, you'll learn in a workshop on modern equipment that you'll encounter in your actual job. In just six months your heating and cooling certification programs will teach you HVAC skills that you can take anywhere. Even better, the Bureau of Labor Statistics says HVAC technician employment is expected to increase by 13 percent through 2028.
Choosing the evening HVAC Classes in Fort Myers will accommodate your schedule and other obligations. Contact Florida Academy today to start your HVAC training this summer.