Accredited Beauty & Wellness Programs At Florida Academy
by
If it's your lifelong dream to pursue a career in cosmetology, skin care, nail technology, or massage therapy, apply to one of the accredited beauty and wellness training programs at Florida Academy.
About the Beauty & Wellness Field
The beauty and wellness field is one of the fastest-growing industries in the country with an ever-expanding customer base. It offers various career options for professionals to choose from, including cosmetology, skin care, nail technology, and massage therapy. The Bureau of Labor Statistics projects the following job growth rates for each job category between 2020 and 2030:
Florida Academy Beauty & Wellness Programs
Florida Academy's top-notch beauty and wellness training programs offer students the opportunity to gain hands-on training in a high-end, salon-setting from Southwest Florida's top beauty professionals. Students also learn marketing and communication strategies needed to attract a loyal client base. Keep reading to learn more about the beauty and wellness programs we offer.
1. Cosmetology
You can complete our cosmetology training program in as little as ten months. You'll master the latest cosmetology techniques in haircutting, coloring, and design as well as makeup application and design. After passing the cosmetology exam through the Board of Cosmetology upon completion of the training program, you'll be one step closer to becoming a licensed cosmetologist.
2. Skin Care
Become a registered skin care professional in as little as three months by completing the Florida Academy skin care program. We train students on how to perform the latest, most in-demand skin care procedures and services with modern equipment.
Services you'll learn to provide:
Facials
Waxing
Body wrapping
3. Nail Technician
When you enroll in our nail technology program, you'll learn how to perform manicures, pedicures, and nail designs in as little as two months. You'll also learn best practices for workplace safety and sanitation to keep clients safe. After completing the training program and passing the final exam, you can apply for your nail technician license through the state of Florida.
4. Massage Therapy
Florida Academy will get you one step closer to becoming a licensed massage therapist in as little as five months with our massage therapy training program. In addition to gaining the skills necessary to administer a wonderful massage, you'll also be equipped to help clients feel their best with expert massage services.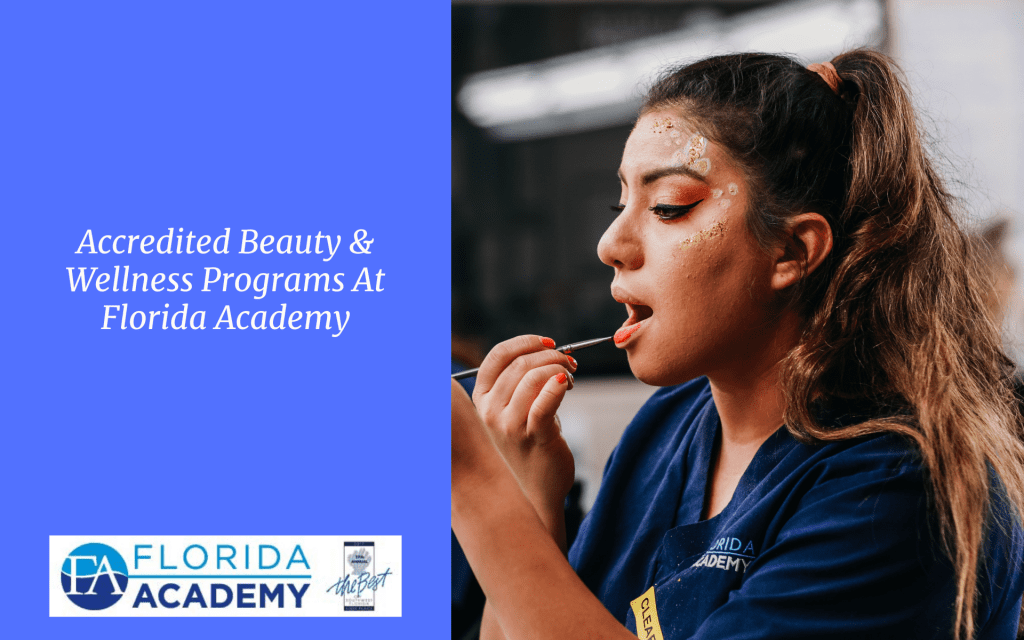 Why You Should Apply to Florida Academy
We train students in the latest techniques and services in cosmetology, skin care, nail technology, and massage therapy to create knowledgeable, high-skilled professionals who are passionate about what they do. By combining classroom learning and hands-on instruction, our flexible training programs prepare students for long-term success in the beauty and wellness industry.
Program Benefits
Small class sizes
Expert instructors with years of real-world experience
Hands-on training in upscale salons
Modern equipment
Jumpstart Your Beauty & Wellness Career at Florida Academy
If you're ready to launch your career as a cosmetologist, skin care specialist, nail technician, or massage therapist, apply for a beauty and wellness training program at Florida Academy in Fort Myers, Florida. Our accredited programs provide students with expert instruction, real-world experience, and hands-on training in a modern facility to prepare them for success in the beauty and wellness industry.
Apply today to jumpstart your beauty and wellness career.