How to Apply Hair Extensions
by
Whether your hairdresser trimmed your hair a little too short or you want to try a fun updo for the holidays, hair extensions can give you the extra length you need for as long as you need it. Keep reading to learn more about hair extensions, their benefits, and how to apply them to your hair.
About Hair Extensions
Depending on how long you want your hair to be, growing it out naturally can take up to years and cost you lots of money on hair products. Hair extensions are great because they instantly lengthen your hair based on your preference, and they provide extra volume. What's even better is that you can customize your look by choosing from an endless array of colors, textures, and styles.
Hair Extension Materials
Most hair extensions are made out of either human hair or synthetic hair. Consider the top three benefits of each when choosing which material you want.
Human Hair Extensions
More natural look
More durable
Longer-term solution
Synthetic Hair Extensions
More affordable
Lightweight
Short-term fix
5 Types of Hair Extensions
The type of hair extension you choose depends on your hair goals, preferences, skill level, and budget. Check out the five types of hair extensions, including their main advantages.
1. Clip-in
Clip-in extensions are great for first-time extension users because they're easy to apply and are relatively cheap and easy to take care of. You can take them out and re-apply them at any point. If you want to do a trial run with extensions to see how you like them, you don't have to worry about spending a lot of time or money on a more durable set. They last a long time—since you can't wear them at night—and pose zero risk of damaging your hair.
2. Fusion
While clip-in hair extensions simply clip onto and off of your natural hair, fusion hair extensions are glued to your natural hair for a more durable look and feel. If you know that you want hair extensions for a long time period, fusion extensions will be your best bet.
3. Sew-In
Just like the name implies, sew-in extensions get sewn into your hair with a needle and thread. This hair extension type is semi-permanent and best for people with relatively thick hair because it makes application easier. Sew-in extensions are more expensive than clip-in extensions and can be less expensive than fusion extensions.
4. Tape-In
If you want a similar application to sew-in extensions—with a slightly shorter lifespan—but have thin hair, tape-in extensions are a good alternative. With this method, you use a special tape to bind the extensions together then tape them to your natural hair. They give extra volume to thinner hair and are only a little pricier than clip-in extensions.
5. Micro Link
Micro link extensions are another semi-permanent option that uses small clamps to connect the extensions to your natural hair for a seamless look. This option is priced the same as fusion extensions and works well for short hair.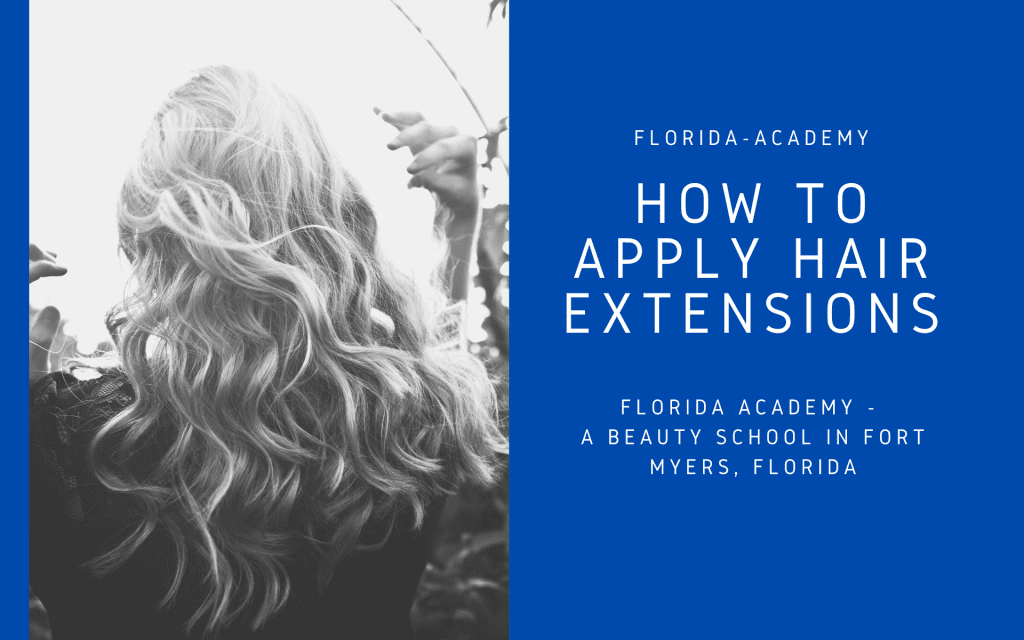 How To Apply Hair Extensions in 3 Easy Steps
Follow this simple three-step hair extension application method:
1. Create Sections
Gather the top chunk of your hair and section it off by taking a tail comb and running it horizontally along your scalp. Pin that hair up with clips. Leave only a small section down.
2. Tease Your Hair
Tease your hair slightly to give something for the extensions to cling to.
3. Attach the Extensions
Line up the first set of extensions with the part in your hair, and attach it to your natural hair. The attachment process varies depending on what type of extension you're using. Make sure to space the extensions out evenly for full coverage, and don't leave any visible weft.
Repeat this three-step process until all extensions have been added.
Apply for Florida Academy's Cosmetology Program
The cosmetology training program at Florida Academy is perfect for anyone who wants to master various cosmetology techniques and learn from top beauty professionals in an upscale salon.
Featuring small class sizes and hands-on training, this program is designed to meet the learning needs of every student. Whether you're looking to pursue a new career or get more training under your belt, the cosmetology program at Florida Academy is a great fit for you.