Summer Beauty Tips You Need to Know
by
Want to ensure your hair and skin looks and feels healthy all summer long? Abide by our list of summer beauty tips for the results you want.
8 Summer Beauty Tips for an Attractive Look
Follow these eight summer skincare and haircare tips for an attractive look that will last all season.
UV Care For Your Skin: Sunscreen is the most important skincare product you should have in your arsenal this summer. Apply and reapply daily to any exposed areas—including your scalp—for optimal protection.
UV Care for Your Hair: Excessive sun exposure dries out and weakens your hair, making it more prone to breakage, frizz, and thinning. To minimize damage, choose products that match your hair type and needs. Steer clear of products that contain harsh ingredients.
Hair Masks: Applying a hair mask once a week will infuse your hair with needed moisture, keeping it hydrated and strong all season long. Your locks will thank you later.
Drink Plenty of Water: We can't stress enough how important it is to stay hydrated during the summer. Drinking lots of water keeps your skin and hair hydrated, which results in a healthier, younger appearance.
Protect Your Eyes and Lips: Practicing proper face care is essential. Wear sunglasses with at least 99% UVA and UVB protection to protect your eyes from sun damage. Sunglasses also protect the sensitive skin around your eyes from sunburns and dryness. Don't forget to apply lip balm with SPF to protect your lips from getting burnt and chapped.
Eat Healthy Foods: Healthy skin starts with a healthy diet. Eat fruits and veggies with a high water content—such as cucumber and watermelon—to hydrate your skin and hair and accelerate your metabolism.
Cleanse, Exfoliate, & Moisturize: Cleans your skin daily to remove dirt, sweat, and other impurities. This helps prevent future breakouts. Exfoliate to smooth your skin, and moisturize to hydrate it. These three steps will keep your skin looking and feeling good all summer.
Choose Natural Products: Natural products are gentler on your hair and skin because they don't contain harsh ingredients. They also help prevent breakouts and are less likely to irritate your skin and cause hair damage.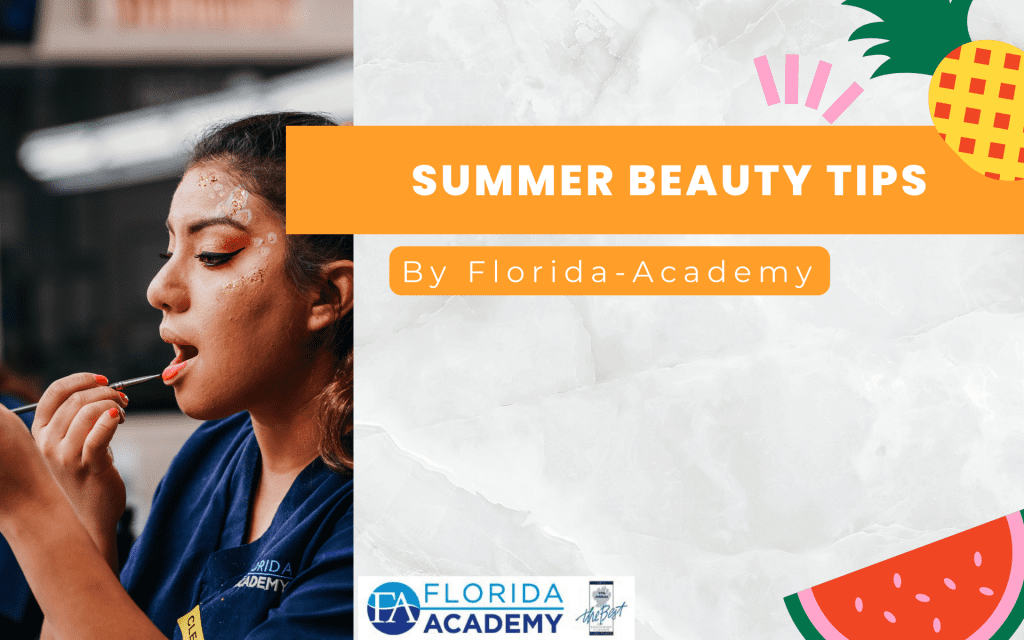 3 Summer Makeup Tips
Adhere to these three makeup tips for an attractive look that will carry you through the season.
1. Wear Less Makeup:
Let your natural features shine by going for a more natural makeup look. Ditch your foundation for a tinted moisturizer and concealer. Just apply a thin layer, and you're ready to go. You can even apply a facial a couple of times per week for a natural glow.
2. Up Your Tame Game:
Moisturize your scalp and hair to keep pesky frizz and split ends at bay. Use heat protectant spray before applying any heat to your hair. Top off your hairstyle with humidity-resistant spray for a sleek finish.
3. Nail Tips:
Whether you want to be bold with a bright color or keep it cool with a classic neutral, show off your toes with confidence this summer. Do your nails at home to avoid breaking the bank. All you need are your favorite polish colors, clear coat, nail remover, and a few tools for a salon-worthy finish.
Pursue Your Skincare Career at Florida Academy
Do you want to help others achieve their summer skincare goals? Consider applying to the Skin Care program at Florida Academy. This program allows you to master the latest skincare procedures and services that will help you land the job you want upon graduation. In just 11 weeks, you can become a registered facial specialist. Follow the link below to learn more about our program.