Holiday Makeup Trends for 2019
by
Ah, the winter holiday season! Now is the time to start thinking about which beauty trends for the holiday season that will make you your most glamorous. With all of those parties and gatherings, you may even want to try a different special look for each one you attend.
This year's top holiday makeup trends can be summed up in a simple phrase: make a statement. Here are some season-specific "statement" makeup looks that will keep all eyes on you:
All that glitters …
The hottest looks for holiday eyes are graphic, glittery, gilded and glamorous.
Glitter lids: Put a hint of glitter over your eye shadow and extend the color beyond the lid. You'll want to tone down the rest of your makeup, so make it minimal so that your sparkly eyes stand out.
Metallics: All shades of metallics are in this season, including silver, gold, bronze, copper, gunmetal and even pastels.
Mermaid eyes: Glimmering turquoise shadow with a hint of metal or glitter gives that under-the-sea feel. Pair it with glossy lips and you'll be in the glamour pool with the best of them!
Jeweled brows: Yes. Putting a band of jewels across your eyebrows is a thing—and it's one of this year's holiday makeup trends.
Sunset shadows: Take two or three of those popular metallic shades and make a gradient layer of color resembling a sunset.
Disco-ball lids: The shiny disco ball of the '70s is the model for a trendy eye shadow style. Color your lids (and under-eyes) in glistening silver for a very festive look.
Flecks of gold: Rather than color your eyelids completely in gold shadow, you might want to line your upper lashes with gold and make a "V" on the inner corner that goes as far as your tear ducts.
Pops of glitter: Put a glittery, shimmery purple shade in the corner of your eye for a pop of color.
Purrfect cat eyes …
What's old is new again, and that means cat eyes. It's not just the traditional style that was once de rigueur in the '60s, however.
Wing it: Take your black liner and wing it out big, but don't forget to put on a powerful bright red lipstick.
Kohl cat: Use a heavy kohl eyeliner to make bold cat eyes drawn around a gold lid.
Floating cat eyes: Here's an idea. You know how cat eyes are drawn by lining the top and bottom lids and extending outward and upward? Don't do that. Instead, don't connect with the lash line; begin drawing the upward line away from the lash.
Siamese eyes: For more color, go with a shimmery cobalt to define your cat-eye look.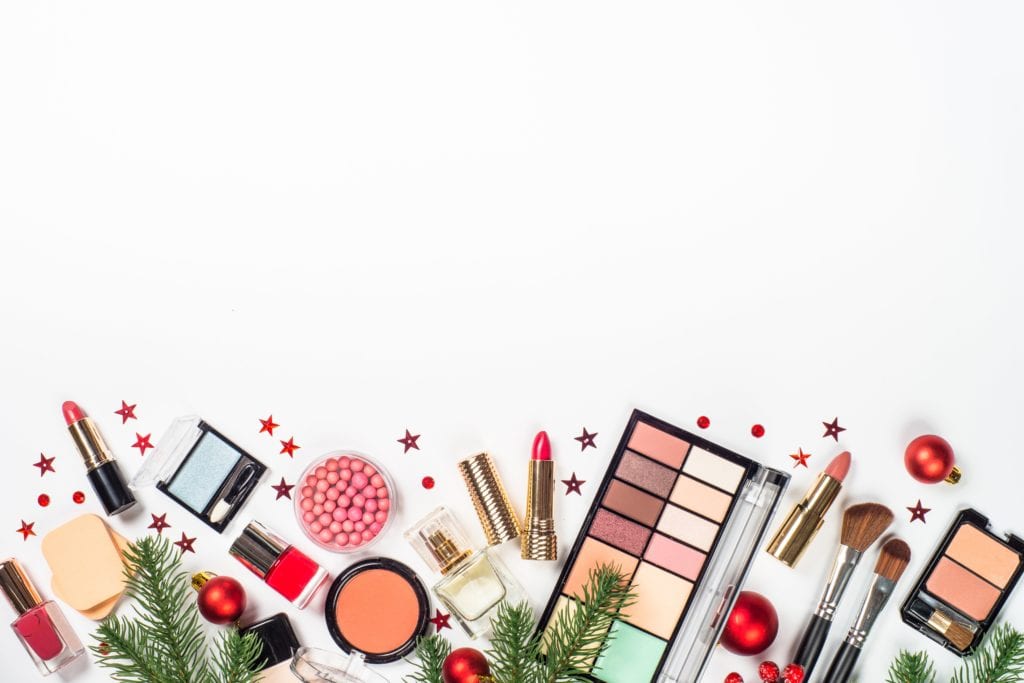 Bold and bright, colors of the night …
If you follow the beauty trends for the holiday, you may outshine and out-dazzle the decorations! Glitter is in, but so is bold color. Consider these combos:
Expensive gilded: Top nude eyeshadow with bronze, combined with smoky liner and chestnut brown lips.
Romantic Goth: Lush lashes, dark brows and vibrant red lipstick make you look as if you've stepped out of a Gothic novel.
Monochromatic: Think all red – eyeliner, cheeks and lips (glitter is optional) – , pink on pink (lips, eyes and cheeks), peach all over or lavender lids/deep purple lips.
Jewel tones: Wear bold emerald, navy and purple on your eyes and/or your lips.
Vampy: How about cocoa-colored lips with a glimmering copper shadow?
À la Kim: Style leader Kim Kardashian goes for the gloss – on her lips and even over her eyeshadow.
Seeing red: You could go with a red pigment for a long-lasting lip color … or you might want to try glossy cranberry, dark scarlet or vivid purple.
Does all this talk of holiday glamour spark your interest in a cosmetology career as a makeup artist or hairstylist? Consider the cosmo programs at Florida Academy. You'll get hands-on training from industry professionals – and will learn in a real-world salon atmosphere. Start 2020 en route to a fun, creative career. Call Florida Academy today.