How to Get a "No Makeup Look"
by
Trend Alert! Natural-Looking Makeup is Still In
You've noticed the 90s fashion revival become a Y2K rebirth, haven't you? A-list celebrities and Tik Tok influencers alike are sporting skater pants, oversized sneakers, crop tops, and lots of accessories. Think hoop earrings, layered necklaces, chains, tiny purses and sunglasses, and even bandanas.
Don't forget about dramatic eye makeup taking off thanks to the latest indie movies and TV shows. Glitter. Rhinestones. Pigmented colors. Graphic lines. 90's fox eyeliner. Colored mascara and the works! More and more people recognize the artistry and fun that goes into beauty. Even younger crowds aren't afraid to try experimenting (and successfully pulling off!) bold eyes.
Despite this jump in style, you know what's also managed to stay popular? A low-bun hair clip and slouchy outfit complemented by a well-executed, effortlessly cool, "no-makeup" look. Natural-looking makeup remains trendy, even though social media accelerates the speed of fashion fad cycles, because of a few key reasons.
A fresh makeup look is super straightforward (great for beginners!), quick to complete, and flattering on any face! That's because its goal is not to change or cover up your facial features, but to enhance them. After you're done and take a look in the mirror, you'll be looking at a slightly more put-together you!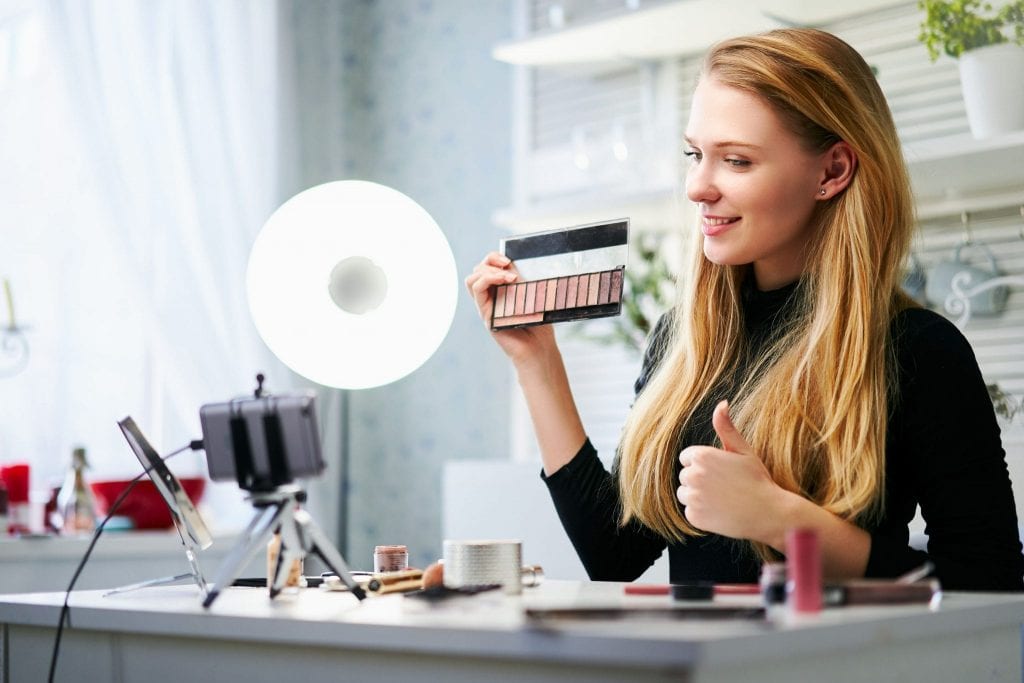 Follow Along With Our No-Makeup Tutorial
We'll guide you step-by-step so you can achieve your no-makeup look for a casual day trip or a low-maintenance night out with friends.
Follow Your Skincare Regime
You want your skin looking just right to feel your most confident without makeup on. That means you'll need to stick to a skincare routine that suits you. It's the best way to rejuvenate dark circles and dry spots for a natural glow.
Start with a gentle cleanser that cleans out your pores without stripping the surface oil. A toner mist will balance the pH level of your skin so you can follow up with moisturizers such as sunscreen, lotion, or night cream. You'll get optimum hydration and skin health so you're ready to rock that fresh makeup look!
You can always add in an exfoliating or brightening mask once a week, or facial serums too. Our best advice for this is to listen to your skin so you only do what you need.
Dot on Primer
The next step in this beauty how-to is to apply your primer. Although honestly, if you're putting on moisturizers right before your makeup, you may not need very much or even any primer at all. It's used to smooth out the surface of your skin and help your natural-looking makeup last all day.
Since your skincare routine already provides maximum hydration, it could be a 2-in-1 step if you're not a dry skin type. Otherwise, you can dot on primer in certain spots you really want your makeup to stay put. This could be your eyelids, under eyes, or even cheekbones.
Forget the Foundation
For this minimal makeup tutorial, we suggest you skip out on foundation and go with something lighter such as a BB (beauty balm) cream, CC (color corrector) cream, or tinted moisturizer during your skincare step. This will keep your complexion even and your coverage light! Your skin will be able to breathe, heal, and look amazing.
Dab on Lightweight Concealer
Dealing with dark circles or a massive breakout? A bit of lightweight concealer should do the trick. Remember, a lot of people have chronic acne or sleepless nights. Your concealer doesn't have to make your problem spots look invisible. It's just to minimize it a little so you feel better.
Body positivity has become huge in recent years; people are more aware of how impossible some beauty standards can be. Use that concealer as desired, but know that you don't have to be flawless to look perfect!
Spread on Cream Blush
Your no-makeup look will be great with a little color in those cheeks. Cream blushes tend to blend into the skin more easily. If you know you're oil-prone, stick to powder so you don't get too shiny or uncomfortable. Dabbing it onto the end of your nose or extending it from the apples of your cheeks to your cheekbones gives a natural rosy appearance.
Go for Highlighter
If any no-makeup tutorial says shimmery highlighter isn't "natural"—toss it out. Glitter is a girl's (or guy's!) best friend so glow extra bright with pearly highlighter expertly patted just above your cheekbones and onto your cupid's bow, inner eyes, and the tip of your nose. A dot under the arch of your eyebrow doesn't hurt either to shine in all the right places!
Lift the Lashes and Brush the Brows
Use an eyelash curler to lift your lashes and give them some volume upfront. Keep them that way by swiping on some volumizing or lengthening mascara too, it will come in handy more than focusing on color for your no-makeup look.
Don't forget about your eyebrows! Grab a clear or lightly-tinted brow gel wand and carefully brush your brows upward and outward. Now your fresh face is perfectly framed!
Swipe on Lip Tint or Gloss
Lip hydration will be the final step of this minimal makeup tutorial! Complete your brand-new beauty routine by treating your lips to a gorgeous, natural-looking color with a lip stain. Alternatively, you could also introduce a little more oomph with gloss. Otherwise, your favorite chapstick should work great too.
Florida Academy's Beauty and Wellness Program
Loved learning the art of the "no-makeup" look? You can perfect this and more at Florida Academy's Beauty and wellness program in Fort Myers, Florida. As a student, you can undergo training in specialized areas of cosmetology such as natural-looking makeup, corrective applications, hairstyling, and plenty more for a well-rounded education.
Joining Florida Academy means stepping into a world of passionate, experienced beauty instructors, hands-on lessons, and a technical curriculum that will prepare you for success after you score your first job! It's never too late to go back to school. Let your passion guide your career path and enroll in our Specialist program today.