Repairing Damaged Skin 101
by
Before trying those expensive facials and pricey serums, read this.
Skin damage occurs quite frequently. Exposure to the sun, frequent face washing, smoking, and poor diet can all cause your skin barrier harm. But we're here to help. Even if you've experienced any of these skin-damaging experiences, you can still repair damaged skin.
Keep reading to learn all about symptoms of skin damage and how you can take care of it.
All About Skin Care
Skincare is at a great place right now. There are thousands of creams, serums, and lotions available to get the results you want for your skin. There are different facial types and medications that can help promote healthy skin and protect your dermal barrier. But even though skincare has advanced significantly in the past few years, skin damage is still a common and serious problem.
Skin damage affects almost everyone because there are so many things that cause it. Everything from a hot shower to washing your face (yes, that's right!) can cause irritation and damage. This means that skincare is extremely important because it helps mitigate the damage.
Signs of Damaged Skin
No matter how you damage your skin—whether it's from sunburn or from over-exfoliating—most signs of dermal damage are easy to catch.
Tell-tale signs of damage on your skin include:
Dryness
Flakiness
Uneven skin texture
Itchiness
Tight skin
Sunspots or age spots
Uneven skin tones
Excess oil
Dullness
Deep wrinkles
Acne scars
Enlarged pore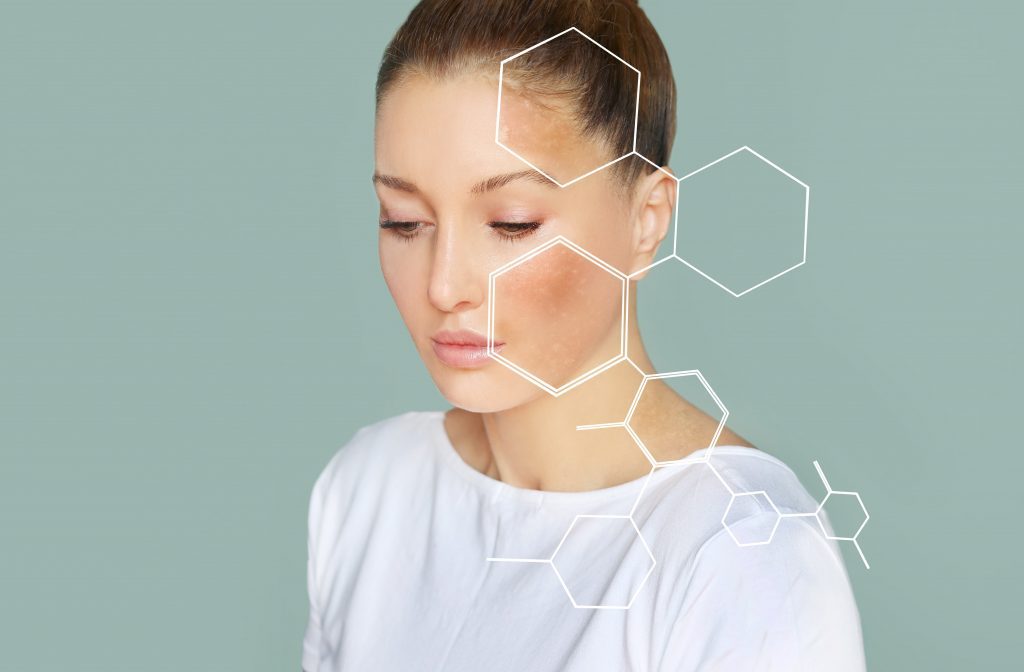 How to Repair Damaged Skin
If you see any symptoms of skin damage, don't fret! There's still time to give your skin the nourishment it needs.
Apply Aloe Vera Gel
Aloe vera has been used as a topical remedy for thousands of years. And it works! Aloe vera is great for soothing irritated, burning skin and has even been used for acne-related skin damage. Use fresh, raw aloe vera for best results.
Use Antioxidant-Rich Skincare
Antioxidants are the stars of the show when it comes to skincare. Vitamin C, vitamin E, and Vitamin A are great for the skin because of their regenerating properties. Using antioxidants can help you brighten up your skin, minimize dark spots, and nourish it.
To reap the benefits of skin-loving antioxidants, opt for products that contain vitamins C, E, or A as one of their main ingredients. Serums and creams will be your new best friend, as they are easy to apply and soak deep into your skin. You can also increase your intake of nutrient-rich foods, like leafy greens, healthy fats, and lean protein.
Stay Hydrated
Water, water, water! Drink up and make sure that you're getting enough water in because staying hydrated makes all the difference in your skin. Dehydration can cause tight, dry skin, giving it a dull appearance. Shoot for eight glasses a day to keep your skin glowing and supple.
Slather on the Moisturizer
Especially in dryer months, a good moisturizer is a saving grace. Moisturizer helps hydrate your skin, but it also helps lock in any moisture throughout the day. That way, your skin will feel soft and nourished for longer.
Pro Tip: Use your moisturizer after you shower. When your skin is wet and fresh out of the shower, it helps boost the moisturizing properties of your skincare! The skin is soft and ready to absorb any moisture you lather onto it.
Avoid These Skin Irritants
And in order to prevent further damage, steer clear of skin-damaging things such as:
Smoking
Too much sun exposure
Chlorine
Excessively hot showers
Stress
Sugar
Excessive alcohol consumption
Sleeping in your makeup
Over exfoliating
Become a Skincare Pro
Skincare is more than just moisturizer and serums. Get all the info on how to get amazing, glowing skin when you attend Florida Academy's Skin Care Program.
Attend our skincare program and become a registered facial specialist in as little as 11 weeks! Skincare experts will show you all the ins and outs of dermatology, facials, microdermabrasion, and more. You'll even work and study in a classroom setup that mimics the feel of salons and spas.
For more information about enrollment and availability, don't hesitate to reach out!