How to Find a Cosmetology School
by
Cosmetology is the study and practice of administering various beauty treatments. Cosmetologists are tasked with helping clients look and feel their best through services such as hair styling, nail art, and facial treatments.
Want to know if attending a cosmetology school is the next step in your career? If you value creativity, job flexibility, and making a difference in people's lives, you'll feel right at home.
5 Benefits of Pursuing a Cosmetology Career
Check out the top five benefits of pursuing a career in cosmetology.
Flexibility

A major perk of working in cosmetology is the flexibility it offers. Depending on your availability, you can work part-time or full-time. You also have more control over days worked and hours. Cosmetologists can work anywhere from a small town salon to a five-star resort. You can even find employment in the special events industry and show business. If it's been your lifelong dream to do wedding hair or makeup artistry on a movie set, cosmetology could be the perfect fit for you.

Job Security

People everywhere will always seek out cosmetology services. That's why the cosmetology field is expected to grow by 19% between 2020 and 2030—a rate higher than the national average for all occupations. If you want to work in a continually growing field with plentiful job opportunities, cosmetology is a great option.

Fulfilling Career

Pursuing a career in cosmetology is an opportunity to engage in meaningful work. You get to boost your clients' confidence by helping them look and feel their best while building meaningful relationships with clients and colleagues. Not much can beat working alongside people with similar interests and goals. Who knows? Your coworkers might become some of your best friends.

Let Your Creativity Shine

If there's one truth about working in cosmetology, it's that you'll never get bored. This field allows you to channel your creativity into your daily work through the beauty services you offer. You can specialize in one area of cosmetology or all three—it's all up to you. Every day is a new opportunity to try new techniques and test new styles on your clients.

Entrepreneurial Opportunities

A career in cosmetology presents the opportunity for self-employment. If you've ever dreamed of opening your own business one day, cosmetology will help you do that. Opening your own salon gives you total control over your schedule, the services you provide, your prices, and what products you sell.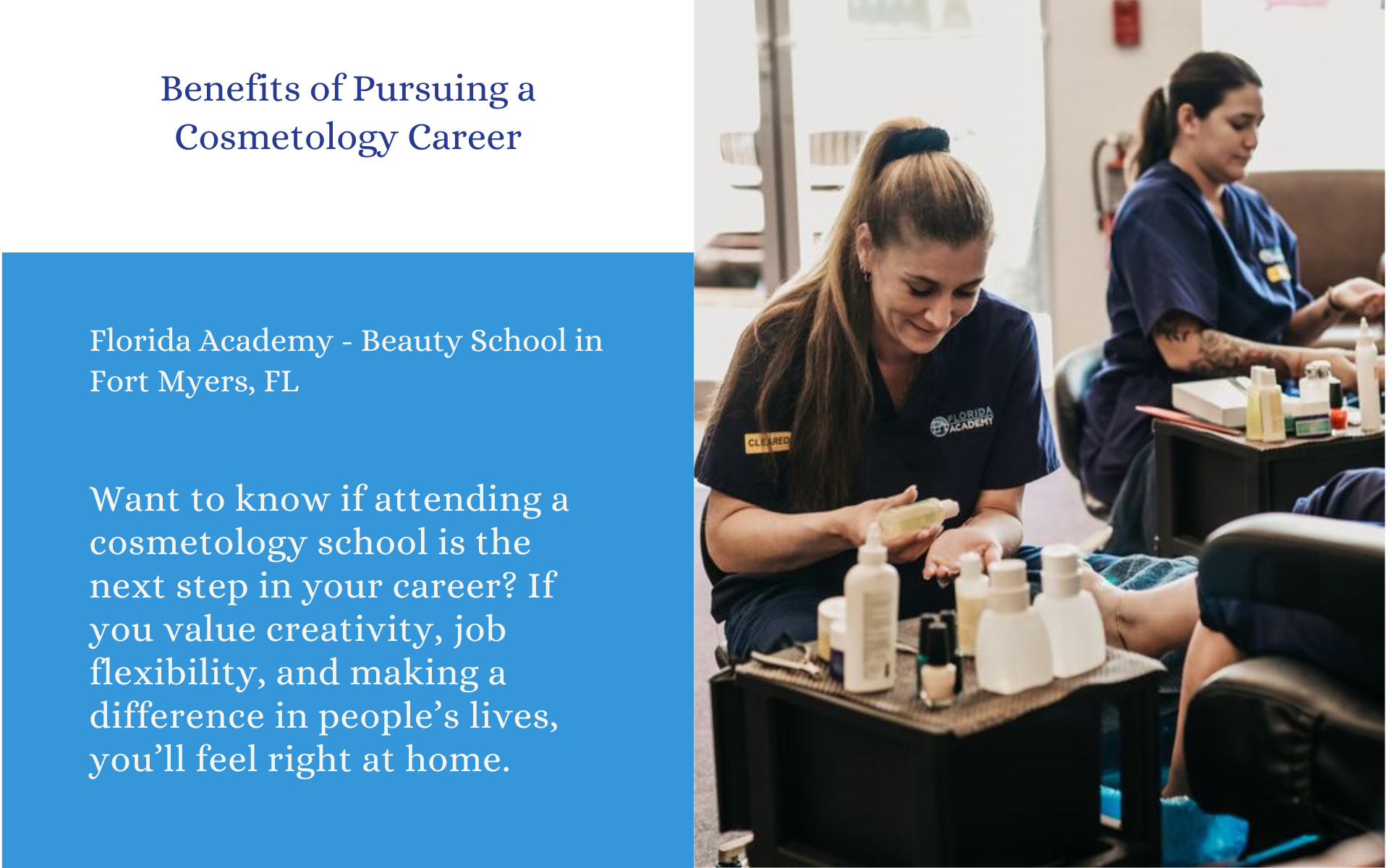 6 Things You'll Learn in a Cosmetology Training Program
Let's dive into the nitty-gritty of what you'll learn as a student in a cosmetology school like Florida Academy. This guide will help you determine whether cosmetology is the right career path for you.
Haircutting, Coloring & Styling: Learn how to cut, color, and style various hair types and textures.
Makeup Applications: You'll cover fundamental makeup techniques, such as how to choose the right products for each skin type and how to apply various products to clients.
Nail Services: Learn how to administer a wonderful manicure and pedicure while becoming an expert in workplace sanitation.
Skin Care Procedures: Promote healthy skincare practices by performing facials, acne treatments, and other non-surgical facial services.
Hair Removal: Master the art of hair removal.
Marketing & Communications Tactics: Learn how to market your business and grow your clientele base.
Kickstart Your Cosmetology Career at Florida Academy
Want to know more about Florida Academy's accredited cosmetology program? Our accelerated 10-month program teaches students how to master the latest cosmetology techniques and navigate the demands of the field. Students also gain hands-on training in a modern salon while learning from Southwest Florida's top beauty professionals. Once you finish the program, you'll be one step closer to becoming a licensed cosmetologist.