Dry Skin in the Fall? Try These Tips TODAY!
by
Seasonal coffee, comfy sweaters, colorful leaves—we love everything about fall. Well, except for the frigid temps that dry out our skin. If you're like most people, the change of weather causes your otherwise hydrated skin to dry out and you can't help but scratch. Not cute.
In lieu of rubbing your skin raw, we've gathered the most effective skincare tips known to women. It's time to adapt your summer skincare routine to maintain moisture throughout winter. No matter our skin type, we've got the deets you need to keep your hands and body hydrated all season long.
Skin Care Types
From sensitive to combination skin, learn the differences of each skin type.
Normal
If you have a normal skin type, your sebum production is well-balanced—not too oily or too dry. It is, however, impacted by the changes in weather.
Signs of normal skin:
Warm weather causes excessive oil and cold temperatures typically cause flaky, dry skin.
2. Dry
If you have dry skin, you don't produce as much sebum. Lack of sebum prevents your skin from retaining moisture, which impacts its health and hydration.
Signs of dry skin:
Cracks, inflammation, redness, and wrinkles are common for people with naturally dry skin.
3. Oily
If your skin produces an excessive amount of sebum, you likely have extremely oily skin. This may cause you to blot your face with a napkin or paper towel to remove excess shine.
Signs of oily skin:
While sebum is produced all over the face, people with oily skin are mainly impacted in the t-zone. This skin type leads to blackheads and acne.
4. Combination
If you have combination skin, some areas of your face will produce more sebum than other parts.
Signs of combination skin:
People with combination skin tend to have fine lines on their forehead and cheeks as well as large pores on their nose and jawline.
Dry Skin in the Fall? Try These Tips TODAY!

Causes of Dry Skin
We all know that skin without adequate moisture will become irritated and start to itch, but what causes your skin to lose moisture? And how do you know you have severely dry skin?
For starters, everyone's skin loses moisture. This happens for a variety of reasons:
Alcohol-based topicals and lotions
Harsh deodorants and detergents
Handling paper
Genetics
Cold conditions
Indoor heat resources (central air and wood stoves)
Long, hot showers
Medications
Underlying health conditions (diabetes and kidney disease)
Eczema
Dehydration
Symptoms of severely dry skin:
Calluses
Bleeding skin
Excessive peeling
Loose, wrinkly skin
Burning skin
Red, chapped skin
Rough, scaly skin
Cracks and sores in the skin
Dryness and inflammation, as well as redness and chapped skin, are relatively normal signs of dehydrated skin. If you exhibit symptoms of severely dry skin for an extended period of time, contact your physician for professional advice.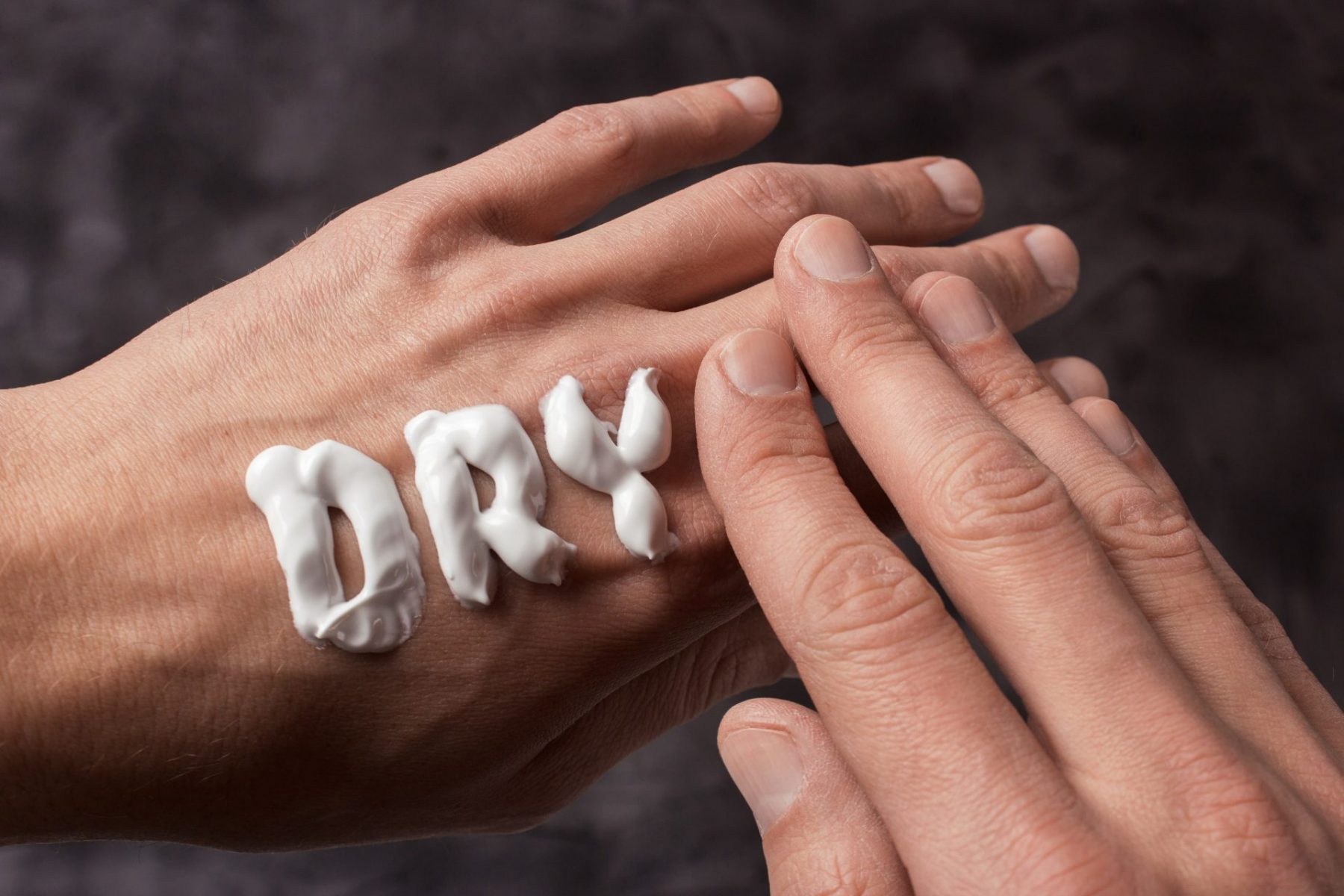 Tips to Prevent Dry Skin
If you're not sure how to stop dry skin in its tracks, we got you. Listed below are proven methods that keep your body thoroughly moisturized and flake-free.
Skip the Soap
Not really. We just want you to be mindful of the products you put on your body. Make sure the solutions you use are all-natural or are made with glycerin, lanolin, or hyaluronic acid. These ingredients will help your skin maintain essential oils and optimum moisture.
Maximize Moisture
This autumn, do yourself a favor and moisturize after washing your hands and after you bathe. This will minimize irritated and dry skin—especially if you have hard water. Don't forget about your elbows, ankles, and knees! They need love too.
Thicker Is Better
Summer is naturally more humid than fall and winter. When seasons shift, be sure to apply a thick, hand cream to soothe rough or dry skin. Keep hydration within arm's reach with a travel-sized cream in your car, on your desk, and beside your nightstand.
Exfoliate Regularly
Get the glow you want with year-round exfoliation. Treat yourself to a much-needed facial or make an all-natural exfoliant at home. Rid your skin of dead cells that may impact your body's ability to absorb and retain moisture.
Drink That Water
It may not be your favorite beverage to drink, but H20 is essential to healthy hair, skin, and nails. Try to start and end your days with an 8oz glass of water.
Create Your Humidity
No matter your location, you can maintain moisture in the air with a humidifier. When temperatures change this device is a serious game-changer. If you can, keep one in your home and office.
Dress Accordingly
Long sleeves and scarves protect your skin from intense weather. For added hydration, apply thick hand and foot creams before putting on socks and gloves.
Break Up With Baths
Hear us out. We love a good bath as much as anyone, but does it have to be an hour-long activity? Try your best to limit the amount of time you spend soaking in a steaming tub. And don't forget to hydrate from head to toe when you get out. Your skin will thank you.
Don't let your skin dry out this fall. Implement these tips to ditch the itch for good.
Your Career In Beauty & Wellness Is Waiting
If you love learning about the latest trends and professional recommendations for skin care, check out Florida Academy's beauty and wellness programs. In addition to advanced skincare training, you can discover the best-kept secrets and ever-changing trends from trained professionals and top-notch instructors. In as little as three months, you could be launching a new career in the field you're passionate about.
Are you ready to take your career into your own hands? Apply to Florida Academy in Fort Meyers online or speak with our admissions staff directly at (866) 536-4608.