Why Cosmetology Is a Good Career Choice
by
Do you value flexibility, creativity, variety, a competitive salary, and career advancement opportunities in your career? If you answered yes to any of those options, a career in cosmetology might be a perfect fit. Keep reading to learn more about what it looks like to have a career in cosmetology and the benefits you'll enjoy.
About Cosmetology
Cosmetology is the study and practice of various beauty services—including hairstyling, nail care, eyebrow care, waxing, makeup applications, and esthetics. A career in cosmetology is great for people who are just starting out, have been in the workforce for decades, and everyone in between.
What You'll Learn
When you enroll in a cosmetology training program, you'll learn all the ins and outs of the industry. By combining classroom learning and hands-on skills practice, a cosmetology training program will equip you to succeed in a professional salon setting. Here are some of the skills you'll learn:
Hard Skills
Current haircutting, coloring, and design techniques for different hair textures
Skincare treatments
Nail care treatments (i.e. manicures and pedicures)
Waxing techniques
Eyebrow hair removal
Makeup artistry
Soft Skills
Communication
Scheduling
Customer service
Time management
Organization
Adaptability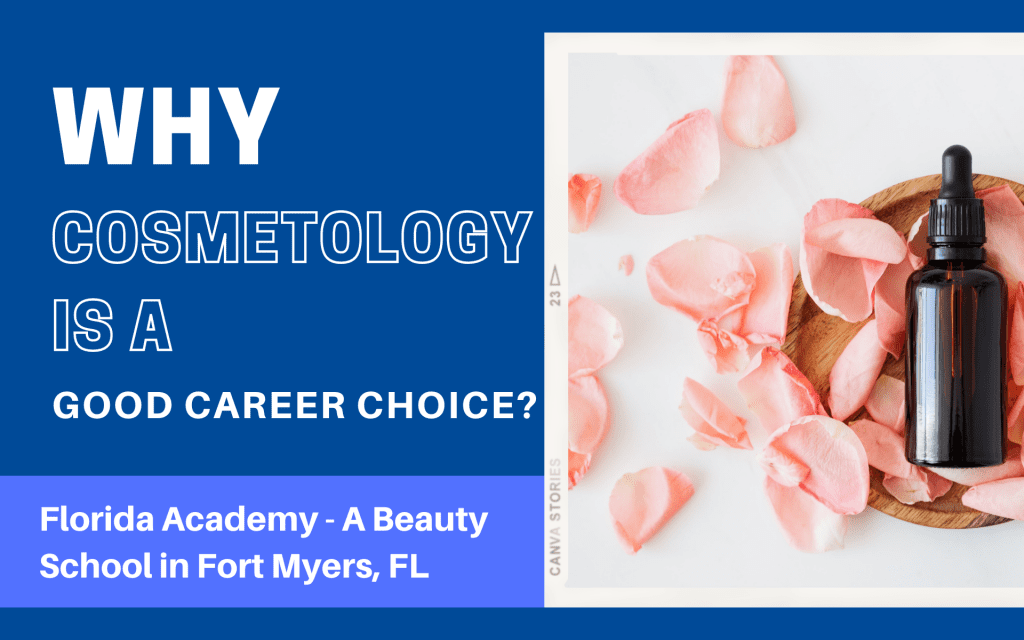 6 Benefits of a Cosmetology Career
Check out the top six personal benefits of pursuing a career in cosmetology:
1. In-Demand Career
The best news about pursuing a career in cosmetology is that jobs in this field will always be in demand because people everywhere will always need professional cosmetological services—such as hairstyling, nail care, and eyebrow hair removal. People either can't do it themselves or don't want to do it themselves, so they're willing to pay someone else to do it for them. A growing job market is always good for business.
2. Flexible Schedule
As a cosmetologist, you often get to create your own schedule. Whether you rent a chair in a bigger salon or run your own business, you get to decide how many clients to take on and when they can schedule appointments. If clients need your services, they'll do what it takes to find an open slot. You also can decide to make it a part-time or full-time career based on your availability and desired income.
3. Creative Environment
A career in cosmetology is great for anyone who wants to get creative with their work. From hair cuts and colors to makeup styles to nail art, clients have an endless amount of options to choose from. When clients can't decide what they want, you get to be the one to brainstorm ideas and see what they might like.
4. Variety of Responsibilities
The beauty of a career in cosmetology is that you get to choose what services you'll provide. You can dabble in every area, choose a few, or specialize in just one. It all depends on your experience, comfort level, and the demand in your area.
5. Competitive Salary
The salary you'll earn as a cosmetologist depends on a few factors:
Skills and experience level: The more skills and experience you have, the better your salary will be because a) you're more marketable, and b) clients trust you more with their cosmetology care.
Number of clients: Having more clients results in a higher salary. However, be careful not to over-extend yourself by taking on more clients than you can handle. Taking on too many clients will result in lost clients and, as a result, lost income.
Location: Where you conduct business will determine how much money you make. Cost of living varies by state—and even among different areas within the same state. Cost of living includes taxes (both property and sales), product prices, and rent—all expenses that impact the cosmetology field. The median salary and median cost of cosmetological services in your area will impact your salary also.
With that said, a cosmetologist's salary—on average—can range anywhere from $24,000 to $52,000. It's customary for clients to give a tip for every service they receive, so remember to factor that in when computing your expected salary.
6. Entrepreneurship Opportunities
The cosmetology field is ideal for people interested in owning their own business, either now or in the future. You can start out as your own boss by opening an independent salon or get some experience under your belt first by renting out a chair in an established salon. If you open your own salon and later decide you a) don't enjoy it or b) don't want the responsibility, you can always sell the business and work in a bigger salon.
Apply for Florida Academy's Cosmetology Program
If you want to learn from top beauty professionals while gaining practical experience in a high-end salon, apply for Florida Academy's cosmetology program. You'll benefit from small class sizes, hands-on training, modern facilities, and a flexible schedule. We'll provide the skills you need to succeed in an entry-level cosmetology position.