Keep Your Hair Healthy With the Ideal Hair Care Routine
by
A hair care routine can make all the difference in taming unruly locks or transforming hair that just seems a little blah. Of course, finding the perfect hair care routine can be tough—but not impossible.
This article will make finding a hair care routine easy. We've laid it all out, from hair types to top products, so that you keep your hair healthy and looking its best. Read on to find out the ideal hair care routine for you.
Why You Should Have a Hair Care Routine
First things first: why should you have a hair care routine? Hair care routines help keep your hair healthy and protected. When you take care of your hair, you reduce split ends and breakage, make dyed hair last longer, and boost the shine and vitality of your hair. Having a hair care routine can also help emphasize your hair's natural texture.
In order to reap the benefits of a hair care routine, you need to make sure your routine contains all the right things. These include:
Knowing your hair type
Washing your hair at the right times
Best products to use
How to properly style your hair
Types of Hair
From straight to coily, there are many different hair types and curl patterns out there. Browse through this list to figure out what your hair type is.
Straight Hair
Straight hair falls flat from the roots and doesn't hold curls easily. Its texture tends to be soft and smooth. Straight hair gets greasy easily.
Wavy Hair
Wavy hair is the middle ground between straight and curly. It holds hairstyles well and is characterized by big curls and waves from the roots to the ends.
Curly Hair
Curly-haired people have prominent curls starting at the roots and going all the way down to the ends. Curly hair is typically drier and frizzier than straight and wavy hair. The four types of curly hair include:
Type 3A (loose curls)
Type 3B (medium curls)
Type 3C (tight curls)
Coily Hair
Coily hair is tightly curled. It's very fragile and needs proper care to avoid breakage. The three types of coily hair are:
Type 4A (soft)
Type 4B (wiry)
Type 4C (extremely wiry)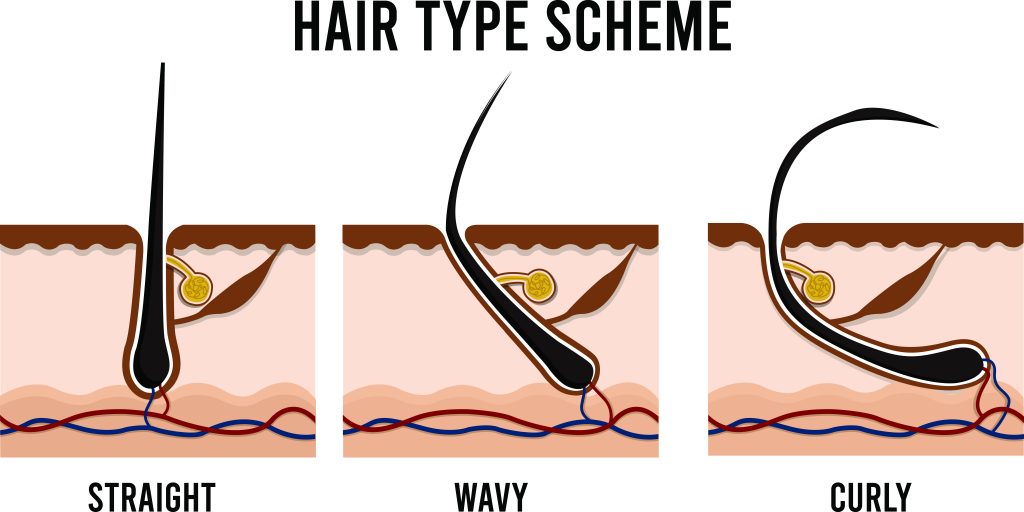 How Often You Should Wash Your Hair
Wash day frequency really depends on your lifestyle and hair type. However, one thing's for sure: hair experts agree that you shouldn't be washing your hair every day.
Here are four factors to help you determine how often you should wash your hair:
Greasiness & Oiliness
Oil and grease attract pollutants and can result in clogged pores and dandruff. If you tend to have a greasy scalp or very oily roots, you might need to wash your hair frequently, such as washing it every other day.
Hair Type
Typically, hair with thicker strands (like curly and coily hair) can go longer without washing, while thin locks are prone to extra oiliness and require frequent washes. In general, dry hair should be shampooed twice a week, while oily hair should be washed every other day.
Dust & Pollen
If you work outside or participate in a lot of outdoor activities, you might have to wash your hair more often because dirt, dust, and pollen will collect on it easier—making it dirtier faster.
Lifestyle
Lastly, your lifestyle determines hair wash frequency. If you work out regularly or are always on the go, your scalp tends to sweat more and might need to be washed every other day.
How to Care for and Style Your Hair
Now we're getting into the nitty-gritty. Here are the specifics on how you should care for your hair depending on type:
Straight Hair:
Wash hair once every other day or every other two days with a sulfate-free shampoo to help nix oil and grease. Avoid leave-in conditioners and use a light conditioner with coconut or jojoba oil. That way, your hair will be nourished without being weighed down. Do not apply conditioner to your roots, and opt for a volumizing mousse to give hair some body.
Wavy Hair:
Wavy hair can be washed once every three to four days with a shampoo specifically formulated for waves. Do an oil massage an hour before washing your hair by massaging a hair-friendly oil into your hair. Leave-in conditioner can help make your waves more prominent and bouncy.
Curly Hair:
Use a sulfate-free shampoo to cleanse the roots, not the shaft and ends, as this can dry out your hair. Wash hair once a week to prevent dryness, and use conditioner every three to four days to keep it soft and nourished. Be sure to find a shampoo perfect for curly hair, as that will help keep it frizz-free. Do a deep conditioning treatment at least once a week and detangle hair in the shower when it's still wet to prevent breakage. Lastly, you can try a curl-defining cream to help your curl pattern pop.
Coily Hair:
Since coily hair is usually very dry, be sure to use a mild shampoo and focus on the roots while avoiding the shaft and ends. Your hair should be washed every two to three days and be deep-conditioned at least once a week to restore hydration and shine to it. As a daily practice, spritz a moisturizing spray on your locks to keep them soft. Just like curly hair, apply oil to your hair before washes and detangle in the shower.
Basic Hair Care Do's and Don'ts
Here are some tips on taking care of your hair, no matter your hair type:
Do: Try an Oil Massage
Once a week, massage some essential oils into your hair to help bring nourishment, shine, and hydration to your hair. Popular hair oils are argan, jojoba, and coconut.
Do: Get a Trim
Trimming your hair helps make it appear healthier and softer—and it gets rid of split ends. Hair professionals recommend getting a trim every two to three months.
Don't: Tie Up Hair
Putting your hair in a bun or ponytail too often can lead to breakage and sometimes hair loss. This is because the roots are constantly being pulled and tightened.
Do: Use a Hat
Just like you need to wear sunscreen to protect your skin, you should wear a hat to protect your hair. The sun can dehydrate and damage your hair.
Do: Steer Clear of Heat
Last but not least, avoid heat! When washing your hair, do so with lukewarm or cool water. This will help seal the cuticles and restore shine to hair. Hot water only damages it. The same thing goes with styling tools like straighteners and curling irons. Although living without these might be unavoidable, try to lessen your use as the high heat causes damage to your hair.
Top Products and Tools for Hair Care
Ready to make your hair amazing? Consider getting some of these things:
For Styling & Protecting
Mousse
Pomade
Dry shampoo
Gel
Hair spray
Shine serum
Heat protection spray
For Cleansing & Conditioning
Sulfate-free shampoo
Rinse-out conditioner
Deep conditioner
Leave-in conditioner
Moisturizing & Hydrating
Detangling
A wide-tooth comb
Brush
Detangling spray
Detangling serum
Get Certified in Hair Care
Learn everything you need to know about hair and more at Florida Academy.
Train in a beautiful high-end salon and receive hands-on professional instruction so that you can master basic, contemporary, and advanced cosmetology techniques. You'll learn the ins and outs of haircutting, styling, coloring, and more—so that you can launch your career in the beauty industry with confidence.
It's time to pursue your passion. Contact us today to learn more.